One-Time Close Loans Versus FHA 203(k) Rehabilitation Mortgages
August 9, 2022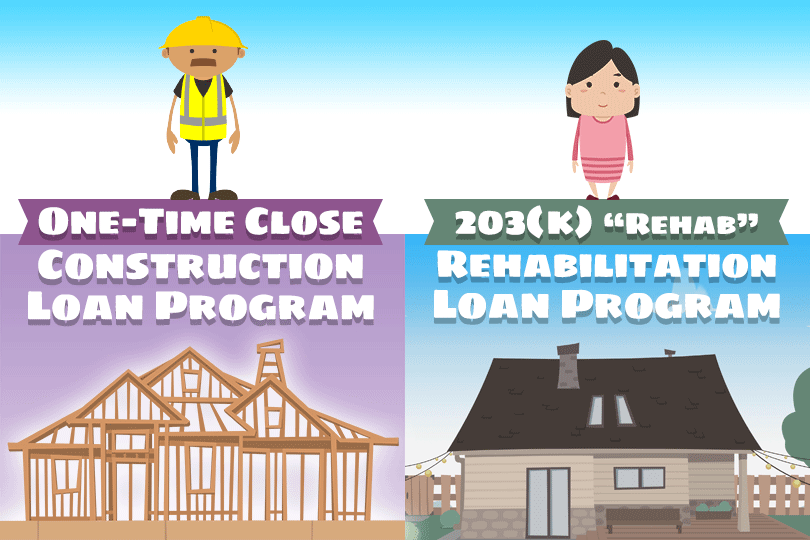 What is the difference between a one-time close construction loan and an FHA 203(k) Rehabilitation Mortgage? These two loans offer similar options (up to a certain point) but they aren't interchangeable. Here's what you need to know about both.
Both types of FHA loans feature a single application and loan closing date. There is no two-loan process for an FHA One-Time Close mortgage (hence the name) and while getting a construction loan is more complicated than buying existing construction property, the same basic guidelines apply. With rehab loans, the two-close issue isn't applicable.
Both loan types typically have borrowers using escrow to pay out loan funds for permits, materials, and contractors. Participating lenders may require the borrower to typically credit-qualify with FICO scores typically in the mid-600s for either type of mortgage in order to secure the best rates. Construction and rehab loans are both larger risks for the lender.
Some look at the features of these loans thinking they are nearly interchangeable but the reality is that they are not. An FHA 203(k) Rehabilitation mortgage can be underwritten as either a refinance or a purchase loan. FHA One-Time Close construction loans are forward mortgages. A construction loan may be refinanced, but using a different type of FHA loan program.
If you're getting the impression that FHA rehab loans are typically for existing structures, you're getting the point of this article. You may be allowed to use 203(k) loan funds to do major work on load-bearing walls, but you generally cannot build a brand new dwelling with one. You're meant to modify an existing property.
That does not necessarily preclude using a 203(k) loan to replace a structure damaged by a disaster or some other circumstance, but typically you would not use a 203(k) to build from scratch from the ground up.
They are typically offered to modify one-to-four unit properties, rather than building one from the ground up.
There are some similarities to be mindful of. Both One-Time Close loans and FHA 203(k) Rehabilitation Mortgages require the use of escrow. You are not permitted unrestricted cash back at closing time, the loan funds are tightly controlled, and escrow is typically used to purchase materials, pay contractors, taxes, and other expenses of the loan.
Mortgage insurance is required for most FHA loans. FHA construction loans require it for either 11 years or the full lifetime of the loan depending on the loan, the loan term, and other factors.
FHA loans require down payments. Rehab loans and construction loans require inspections at the end of the construction project to ensure the work meets FHA standards as well as local building codes. And both types of mortgage do not permit the lender to charge you a penalty for paying off the loan early either to refinance it or to fully pay off the mortgage ahead of schedule.
------------------------------
RELATED VIDEOS:
Sometimes It Pays to Refinance
Don't Forget Your Closing Checklist
Monthly Payments Establish Good Credit
Do you know what's on your credit report?
Learn what your score means.