FHA Rules for Manufactured / Modular Homes
October 20, 2021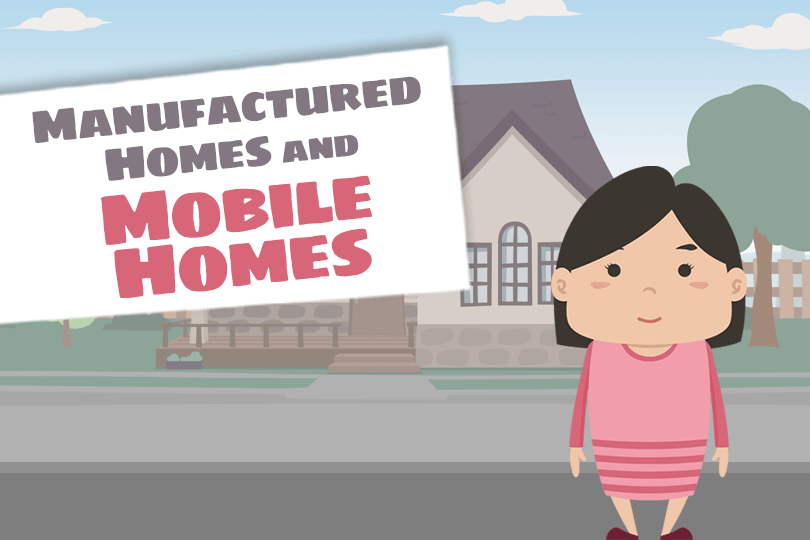 FHA mortgage loans are available for much more than just suburban homes or condominiums. FHA loans can also be used to purchase manufactured homes and/or modular homes.
Manufactured homes are often sold and transported in sections to be assembled on-site. Some buyers may wonder if the assembly counts as "construction", and would such "construction" reclassify the manufactured home in the eyes of the FHA?
The FHA defines a manufactured home differently than new or existing construction properties--what does the FHA consider different than with those new construction or existing construction suburban homes?
According to FHA rules, a manufactured home differs from a new construction project because of the nature of its assembly. New construction property is built "on-site". FHA defines a manufactured home as "a structure that is transportable in one or more sections. In traveling mode, the home is eight feet or more in width and forty feet or more in length."
These homes are regulated under the rules known as Federal Manufactured Construction and Safety Standards and must be labeled accordingly. To be eligible for FHA mortgage insurance, the manufactured home must be built after June 15, 1976 and there must be a certification label to prove it. Manufactured home floor space can not be smaller than 400 square feet and must be classified as real estate.
FHA allows borrowers to utilize the
FHA One-Time Close construction to permanent financing
program on both manufactured and/or modular homes.
Want More Information About One-Time Close Loans?
We have done extensive research on the FHA (Federal Housing Administration), the VA (Department of Veterans Affairs) and the USDA (United States Department of Agriculture) One-Time Close Construction loan programs. We have spoken directly to licensed lenders that originate these residential loan types in most states and each company has supplied us the guidelines for their products. We can connect you with mortgage loan officers who work for lenders that know the product well and have consistently provided quality service. If you are interested in being contacted by a licensed lender in your area, please send responses to the questions below. All information is treated confidentially.
FHA.com provides information and connects consumers to qualified One-Time Close lenders in an effort to raise awareness about this loan product and to help consumers receive higher quality service. We are not paid for endorsing or recommending the lenders or loan originators and do not otherwise benefit from doing so. Consumers should shop for mortgage services and compare their options before agreeing to proceed.
Please note that investor guidelines for the FHA, VA and USDA One-Time Close Construction Program only allows for single family dwellings (1 unit) – and NOT for multi-family units (no duplexes, triplexes or fourplexes). In addition, the following homes/building styles are not allowed under these programs: Kit Homes, Barndominiums, Log Cabin Homes, Shipping Container Homes, Stilt Homes, Solar (only) or Wind Powered (only) Homes.
Your email to
[email protected]
authorizes FHA.com to share your personal information with a mortgage lender licensed in your area to contact you.
Send your first and last name, e-mail address, and contact telephone number.
Tell us the city and state of the proposed property.
Tell us your and/or the Co-borrower's credit profile: Excellent – (680+), Good - (640-679), Fair – (620-639) or Poor- (Below 620). 620 is the minimum qualifying credit score for this product.
Are you or your spouse (Co-borrower) eligible veterans? If either of you are eligible veterans, down payments as low as $0 may be available up to the maximum amount your debt-to-income ratio per VA will allow – there are no maximum loan amounts as per VA guidelines. Most lenders will go up to $750,000 and review higher loan amounts on a case by case basis. If not, the FHA down payment is 3.5% up to the maximum FHA lending limit for your county.
------------------------------
Learn About the Path to Homeownership
Take the guesswork out of buying and owning a home. Once you know where you want to go, we'll get you there in 9 steps.
Step 1:
How Much Can You Afford?
Step 2:
Know Your Homebuyer Rights
Step 3:
Basic Mortgage Terminology
Step 4:
Shopping for a Mortgage
Step 5:
Shopping for Your Home
Step 6:
Making an Offer to the Seller
Step 7:
Getting a Home Inspection
Step 8:
Homeowner's Insurance
Step 9:
What to Expect at Closing
SEE YOUR CREDIT SCORES From All 3 Bureaus
Do you know what's on your credit report?
Learn what your score means.