FICO Scores and Your FHA Mortgage
July 7, 2016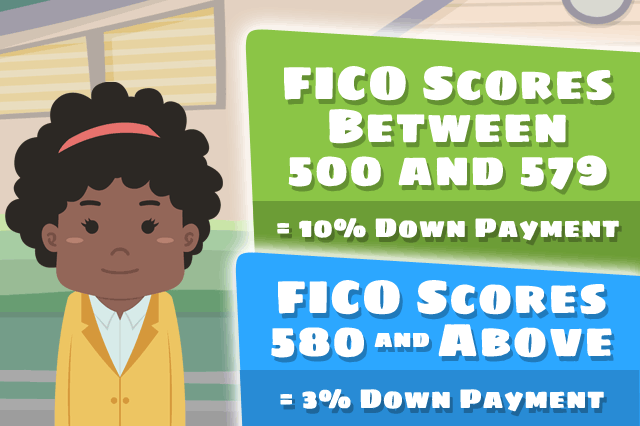 FHA single family home loans are used to buy owner-occupied residences. The FHA backs the mortgage loan, making it more attractive for the lender and easier to extend credit compared to the higher FICO score requirements of some conventional loans. But there can be confusion over FHA mortgage loan program minimum requirements for FICO scores and lender requirements. What's the story here?
Basically, FHA loan rules permit
FICO scores between 500 and 579
, but with a higher down payment required. Maximum financing is available for borrowers with FICO scores higher than 580. A down payment is still required, but is lower--only 3.5% compared to the 10% down required of those with FICO scores between 500 and 579.
These are
FHA minimum requirements
, but lenders often require higher FICO scores. This is permitted by FHA loan rules as long as those higher requirements are in accordance with federal law. But what FICO scores are participating lenders actually approving FHA mortgages at?
A report at
EllieMae.com
states that in general terms, FICO scores of 620 or better are typical for participating lenders. The same report states that many loans are approved at FICO scores of 680 or better, and some loans were denied with FICO scores at or near 635. Does that seem confusing?
It's not as confusing when you recognize that other factors can go into loan denial that have nothing to do with FICO scores. A high debt-to-income ratio, for example, may be an issue that keeps an otherwise qualified FHA loan applicant from getting loan approval. The same goes for borrowers who technically have FICO scores within the range the lender wants, but have issues on their credit history such as a bankruptcy, unresolved federal debt, judgments, etc.
These issues vary, and the FICO score factor in such cases might not be enough to compensate. Then there are cases where a borrower may be on the edge of what is an acceptable FICO score to the lender, but gets loan approval anyway due to compensating factors such as being able to provide a higher down payment, having cash reserves, co-borrowing, etc.
Note that these cases are situational and each loan will be reviewed individually to determine a borrower's creditworthiness. FICO scores are an important part of the FHA loan approval process, but they aren't necessarily the only aspect that goes into the final decision to approve or deny the loan.
SEE YOUR CREDIT SCORES From All 3 Bureaus
Do you know what's on your credit report?
Learn what your score means.