Do Mortgage Rate Changes Affect Your FHA Loan?
May 6, 2023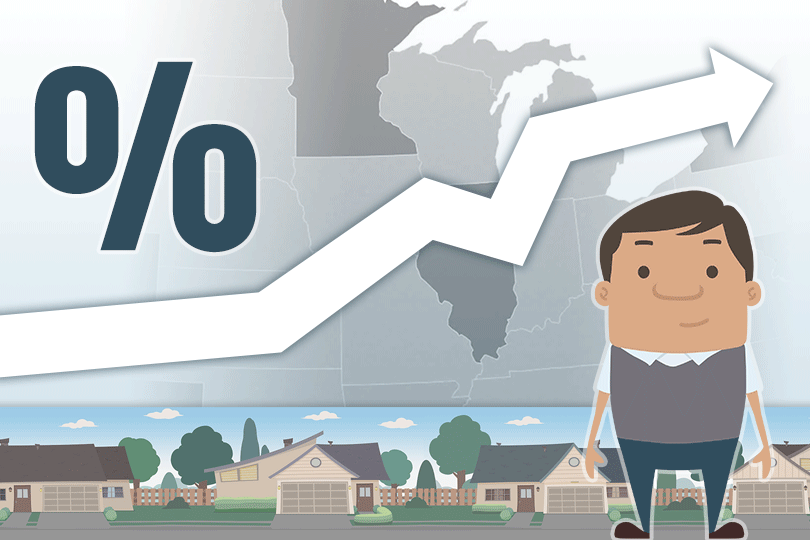 According to one source, the highest mortgage rate in U.S. history may well have been 18.45%, for a 30-year fixed-rate conventional mortgage. That happened in 1981 thanks to record-high inflation at the time.
The lowest interest rate recorded may have been the low reached in December 2020, 2.68%, according to Freddie Mac, thanks to the global pandemic.
Rates go high, and rates fall. There is a cycle at work that is driven by a range of influences, including Fed actions to shore up the U.S. economy, investor reaction to those efforts, buyer enthusiasm, plus local housing inventory and competition for it. No single factor affects mortgage rates, it's a combination of things.
What to Make of Interest Rate Headlines
Are you viewing headlines that hint at lower home loan rates to come? We've often noted that those not prepared to buy should ignore the fear of missing out (also known as FOMO in cryptocurrency circles) and stick to their plans and budgets.
But some borrowers ARE affected by changes in the mortgage loan interest rate, and they should pay close attention to their options in times like these. But which FHA borrowers do we mean?
Are You Refinancing?
Refinancing a loan you got pre-pandemic might not include the interest rate range you were hoping for, even in a housing market that seems to be making efforts to recover from 2022.
Some refinance to pull the home's value out in cash, and they may not be as worried about mortgage loan interest rates as the person who would prefer a no-cash-out FHA refinance loan option because they want a lower monthly payment or interest rate.
These borrowers should discuss their financial goals with a loan officer and determine what makes the most sense. In some cases playing the waiting game could pay off if rates begin to fall into the summer house-buying season.
But much depends on forces beyond our control; waiting and deciding when rates seem to be consistently lower may be the key for borrowers in this situation. But it never hurts to ask a lender's advice.
Are You Negotiating?
If you don't have a mortgage loan interest rate lock commitment with your lender, the changing interest rate situation could work against you. A rate lock is appropriate at a specific time and place in the mortgage loan process; you won't ask for one from the lender until you are ready to commit to the purchase of a specific property.
Fluctuating rates can be a problem for borrowers who aren't quite ready to make the offer but worry about rates climbing in the meantime. Ask your loan officer how soon until you qualify to negotiate a mortgage rate lock but be advised that industry-standard timelines for that may include a 30-60 day window for the lock itself.
That is one reason why it pays to keep an eye on market conditions; you'll have the rate lock for a limited period of time and your closing date should happen within that time frame.
------------------------------
RELATED VIDEOS:
Keep Your Eyes on Your Loan Balance
Learn About FHA Loan Prepayments
Taking Out a Home Loan Makes You a Borrower
Do you know what's on your credit report?
Learn what your score means.