FHA Streamline Refinance Loans in 2023
February 18, 2023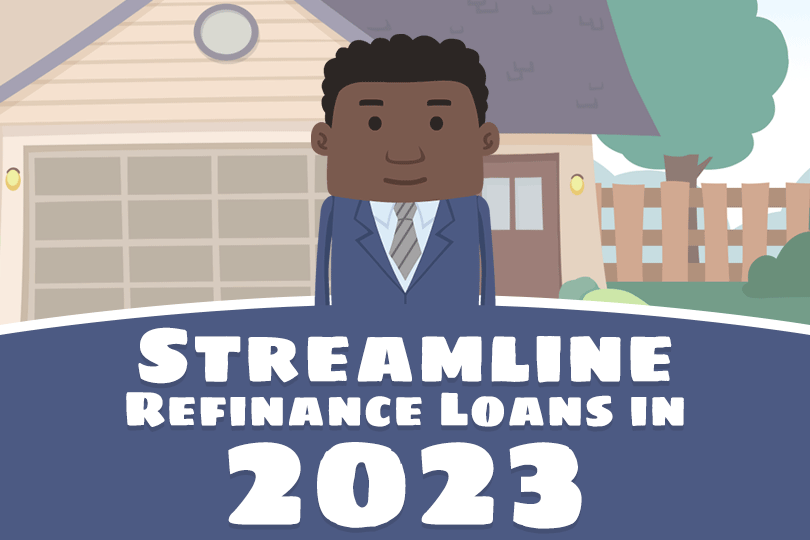 There are many different types of refinance loans available. One government-backed home loan option is called the
Streamline Refinance
. It's open to FHA borrowers and those who qualify for the VA home loan program.
But chances are good you aren't hearing much about
FHA Streamline Refinance
loan options in early 2023, and there's a good reason for that.
Is a Streamline Refinance a Good Idea in 2023?
That headline probably looks like it should be at the END of this article, not the top. But it's the question many ask when considering their refinance loan options in the current housing market.
The interest rate is the key to understanding when and why to use an FHA Streamline Refinance under current market conditions. A Streamline Refi typically must result in a tangible benefit to the borrower in the form of a lower mortgage payment or a lower interest rate.
If you bought a home in 2017, chances are good that rates are higher today than they were back then, and getting a Streamline Refinance at a higher interest rate (like early 2023's higher rates) doesn't make any sense.
So the shortest answer is to wait to apply for a Streamline Refinance until the interest rates fall low enough to justify the move. But not everyone can hold out til the rates drop. Some will need to act sooner.
Alternatives to Streamline Refinancing
If you are struggling to keep up with mortgage payments and need an alternative to
FHA Streamline Refinancing
, have a conversation with your loan officer about steps you can take to keep your home, avoid going into loan default, and protect your investment.
For some borrowers, this may involve refinancing differently. Those who have missed payments and need to catch up will either negotiate some form of forbearance or loan forgiveness for the missed payments. Refinancing to catch up without forgiveness of the missed payments is also possible.
If you're looking for a smaller monthly payment, a no-cash-out FHA Refinance loan may be an option but this may typically work best if you have owned the home for some time.
Those who have owned their property for only a few years should discuss this option with a loan officer to see what the wisest move might be. Be sure to tell the lender your goal is lower payments if that applies to you.
The Future of FHA Loan Interest Rates?
If you look at a graph of home loan interest rates over the last two years, you'll see that in 2023 the trend is still high, but the rates are definitely starting to drop, however incrementally. Some market watchers have predicted that by the third quarter of 2023, we might see rates coming back into a range that feels closer to "normal."
Some can afford to wait to refinance until these predictions start coming true (if they actually do so.) If you can wait until later in the calendar year to begin exploring your refinance loan options, the FHA Streamline Refinance may start looking more like a viable option in 2023. Only time will tell.
------------------------------
RELATED VIDEOS:
Protect Yourself Against Identity Theft
A Streamline Refinance Simplifies the FHA Loan Process
Principal Payments and Your FHA Loan
Do you know what's on your credit report?
Learn what your score means.