Mortgage Rates and Housing Market Trends
November 25, 2022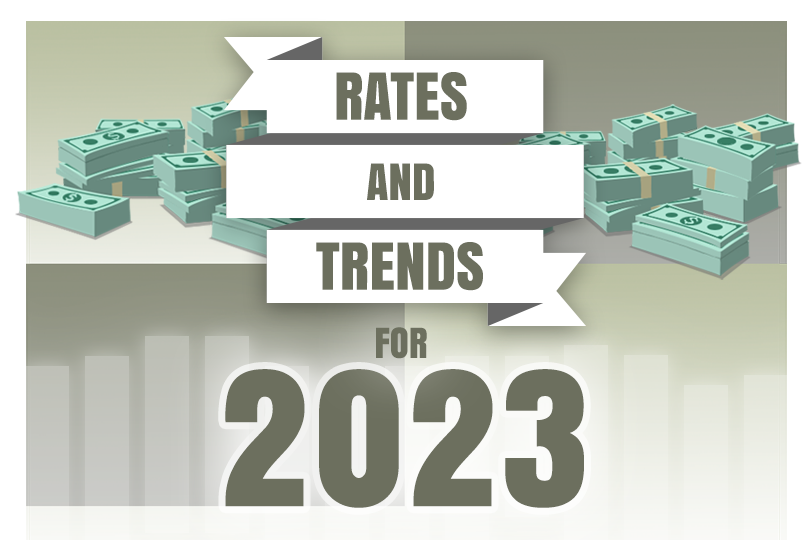 The last quarter of the year typically brings commentary on what the next year will bring where the economy and the housing market are concerned. This year's housing market issues were of major concern with rising mortgage rates and house prices; what are pundits saying about what awaits in 2023?
The first thing you will notice when looking at financial sites like Bloomberg, Forbes, and others is that there's a general expectation that rates and house prices will fall in the new year.
But that Is as close to a consensus as it gets. Opinions about the nature and quality of such improvements vary.
Some sources including the National Association of Realtors hold that 2023 will feature mortgage rates between 6% and 7%, depending on the loan and other factors. That's not a big improvement over what we're seeing at press time, but other sources believe the new year will eventually bring more improvements.
The Mortgage Bankers Association (MBA) is quoted as falling into the "more improvement" camp, with mortgage rates potentially falling (in the eyes of the MBA) as low as 5.4%. However, this source also believes there will be plenty of mortgage rate volatility in the new year and that's a factor worth paying attention to.
Is it worth it to buy a home in 2023? Forbes.com advises borrowers not to sit around waiting for rates to improve--there's just no way to know when that may happen with any real staying power and your personal plans may not include holding out indefinitely for a better mortgage rate environment to show up.
It's smarter to start making your plans, save up your down payment, and work on your credit in the meantime. Improving your credit means you will be offered a more competitive interest rate.
If you plan to keep the home long-term you can talk to your participating FHA lender about purchasing interest rate discount points, or you can talk to your loan officer about an FHA adjustable rate mortgage (FHA ARM).
If you are getting the idea that it's a smart thing to create a strategy for home ownership, you're on the right track. Buying and owning a home does require more planning than it might seem from the outside of the process looking in. But that planning is not wasted time--the better prepared you are for the commitment of buying a home, the better.
Everyone speculates about what's to come in the new year. 2023 may not be the perfect time to purchase property in general with inflation worries and an uncertain economy.
But you don't need to feel sidelined if you were thinking of buying a home next year; making a strategy to maximize your finances and choose the best loan options will help your home buying dollars go farther in the long run.
------------------------------
RELATED VIDEOS:
Learn How to Meet FHA Requirements
A Few Tips About Your Fixed Rate Mortgage
Your Proof of Ownership Is the Property Title
Do you know what's on your credit report?
Learn what your score means.