FHA Appraisal Issues: Peeling Paint
August 6, 2022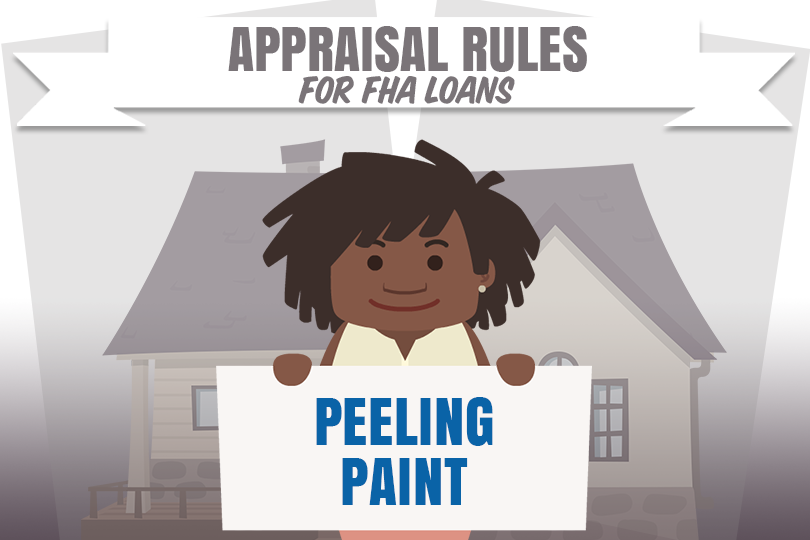 Appraisal issues can be tricky for buyers who are new to the housing market. One common reader question about FHA home loans is definitely appraisal-related and it is one you don't even need an appraisal to happen before the question comes up.
Can the presence of peeling paint be enough to cause a problem for a house during the FHA appraisal process? Many people view cracked or peeling paint on or in a home to be a purely cosmetic issue, but that is not always correct. If a home was built prior to 1978, lead contamination could be an issue.
FHA home loan rules require the seller to provide full disclosure of any known lead hazard. From HUD 4000.1:
"If the Property was built before 1978, the seller must disclose any information known about lead-based paint and lead-based paint hazards before selling the house" to be in compliance with the HUD-EPA Lead Disclosure Rule.
In such cases, there are additional requirements such as providing the borrower with an opportunity to conduct a lead paint inspection/risk assessment. The borrower is free to waive this, but it must at least be offered. The borrower must be given ten days to accomplish the assessment or inspection.
The FHA Single Family Lender's Handbook, HUD 4000.1, has instructions for FHA appraisers including a section titled, "Defective Paint" which includes information on how to handle peeling or cracked paint depending on the age of the property.
"If the dwelling or related improvements were built after 1978, the Appraiser must report all defective paint surfaces on the exterior and require repair of any defective paint that exposes the subsurface to the elements." And for homes and/or improvements built before 1978?
The FHA appraiser must, "note the condition and location of all defective paint and require repair in compliance with 24 CFR § 200.810(c) and any applicable EPA requirements."
Lead paint inspection procedures include reviewing "all interior and exterior surfaces", including common areas, stairs, deck, porch, railings, windows, and doors" for defective paint. The FHA definition of "defective paint includes paint that is:
Cracking
Scaling
Chipping
Peeling
Loose
Any situation that could affect the health and safety of the occupants of the home after the loan has closed must be addressed in the appraisal report. In cases where a borrower is using an FHA mortgage to buy a fixer-upper, any peeling paint issues related to a home older than 1978 must be addressed to FHA and EPA requirements as a condition of loan approval.
------------------------------
Learn About the Path to Homeownership
Take the guesswork out of buying and owning a home. Once you know where you want to go, we'll get you there in 9 steps.
Step 1:
How Much Can You Afford?
Step 2:
Know Your Homebuyer Rights
Step 3:
Basic Mortgage Terminology
Step 4:
Shopping for a Mortgage
Step 5:
Shopping for Your Home
Step 6:
Making an Offer to the Seller
Step 7:
Getting a Home Inspection
Step 8:
Homeowner's Insurance
Step 9:
What to Expect at Closing
Do you know what's on your credit report?
Learn what your score means.