Home Loan Approval, Credit Issues, and Credit Repair
January 18, 2022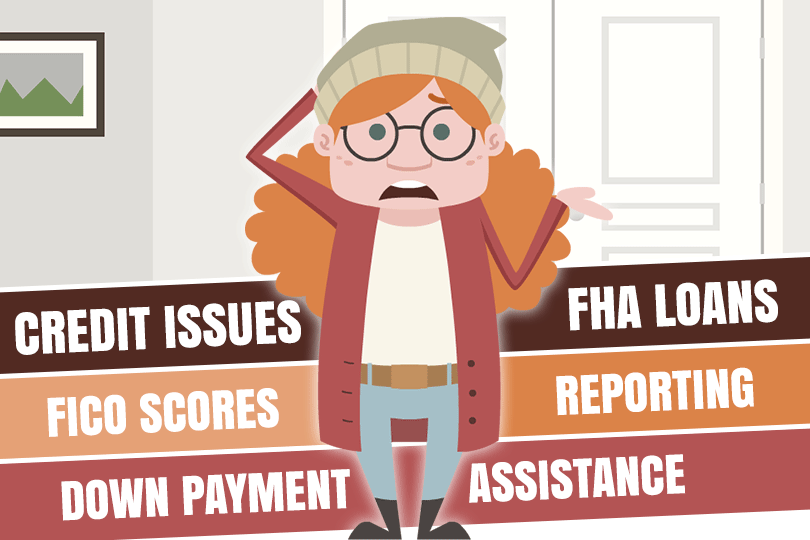 You don't need to pay a third party to repair your credit ahead of applying for a home loan.
There is nothing inherently wrong or illegal about paying a third party to improve your credit but there are some things you should know that may change your mind about trusting (and paying) someone else to do things on your behalf that you can do yourself.
The first of those is that nobody, despite their promises, can remove accurate data from your credit report that is not outdated. And that's the lure some of these companies use to get your money. They may promise to "erase" bad credit from your files.
But it's not just such empty promises you should think about. Did you know there are many things you can do to improve your FICO scores over time and get yourself in a better position to have your FHA purchase loan approved?
There are all the Home Loans 101-type pointers (good advice, mind you) about paying on time, every time at least a year in advance of your loan, and reducing your credit card balances as low as you can.
But did you know there are other things you can do to improve your credit a year or more ahead of your home loan?
The buyer who has a thin credit file, non-traditional credit, or previously poor credit can establish a more attractive record of credit use and on-time payments using a credit-builder personal loan or a secured credit card as a way to rehab a credit file.
Credit builder personal loans are not for everyone and there are many predatory lenders waiting to take advantage of people who don't think to compare options and lenders as aggressively as you would when buying a used car. If you decide this option is for you, you can use it to improve your FICO scores and history--but there are caveats.
One of those caveats? The process takes TIME. Do not expect overnight results, or results in the next month, two months, etc. By month number four you may begin to see some improvement, but in general, you will want to give yourself at least a full 12 months with no missed payments or late payments in order to see benefits.
Another reason to start early has to do with what needs to happen if your credit report has entries in it related to identity theft. Do you see a credit card account you don't recognize in your credit reports? Contesting that takes time, requires you to file police reports and open an investigation at the three major credit bureaus.
That process will take more time than you think and working it early as possible is strongly recommended. It is never too early to begin reviewing your credit, making a budget, and planning your purchase. The more time you give yourself in those preliminary stages, the better off you will be. It's not possible to anticipate each and every contingency, but having ample time to deal with the unexpected is a very good thing.
------------------------------
RELATED VIDEOS:
Learn How to Meet FHA Requirements
A Few Tips About Your Fixed Rate Mortgage
Your Proof of Ownership Is the Property Title
SEE YOUR CREDIT SCORES From All 3 Bureaus
Do you know what's on your credit report?
Learn what your score means.