Different Types of Construction Loans
December 20, 2021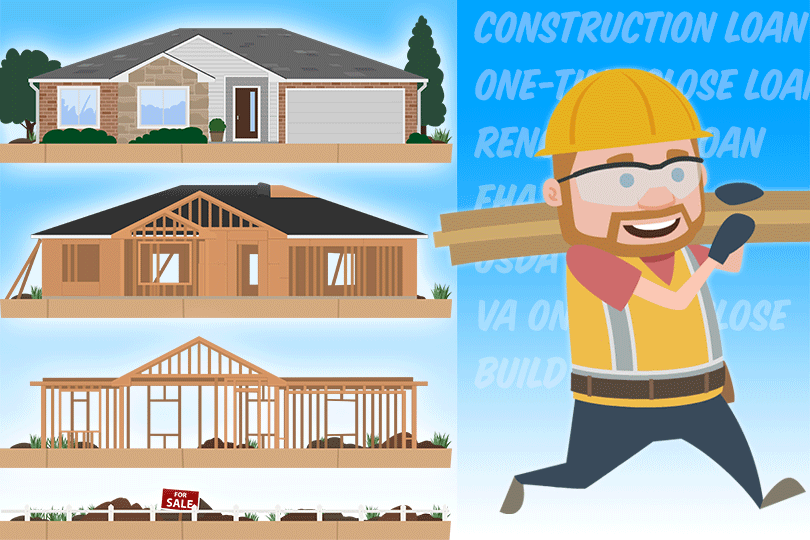 What are the different types of construction loans? We're not talking about the difference between a conventional mortgage or a VA loan, or an FHA construction loan versus a USDA loan, etc.
Instead, we're talking about the different types that may be offered by any conventional or government-backed lender.
There are construction loans that cover the cost of the project alone, there are single-close mortgages (also known as One-Time Close construction loans) that incorporate a single application for both the construction phase and the purchase phase, and there are renovation construction loans.
Construction-to-Permanent Loans
The loan known as a One-Time Close construction mortgage provides, as mentioned above) a single application and closing date for the loan. There are FHA One-Time Close construction loans, USDA, VA, and conventional versions.
If you apply for an FHA One-Time Close loan, you should be prepared for a variety of issues your lender will inform you about. One such issue is that construction loans generally don't permit any form of down payment assistance, and another is that you are generally not allowed (based on lender standards) to act as your own builder.
That's not to say there are NO construction loan options that allow you to act as your own contractor but in general, a construction loan is a bigger deal than an existing purchase loan and it could be argued that the lender will decline the potentially elevated risk of letting the borrower be the builder.
Construction-Only Mortgages
These loans are often referred to as "two-close construction loans" because they feature two applications, two closing dates, etc. There is an elevated risk to the borrower in as much as there is a possibility that the second application could be turned down in cases where the borrower's financial situation has changed since the first closing date or other variables.
Some will use a two-close loan because they want to finance the construction but seek out a different lender for the purchase phase. If you have large cash reserves and are not averse to paying more upfront for your loan, the two-close construction loan may be an option to consider. But many may gravitate toward the "safer" One-Time Close option.
Renovation Construction Loans
If you have ever thought of buying a home with an FHA 203(k) rehabilitation mortgage, you're exploring your renovation construction loan options. These loans include the cost of repairs, upgrades, etc. into the mortgage as part of the loan and the projects that are accomplished with the FHA 203(k) must meet the FHA and lender requirements--these funds are restricted to their stated purpose, which is the construction and the types of projects on the FHA's approved list.
------------------------------
RELATED VIDEOS:
What You Need to Know About the Appraisal Fee
The Appraisal is an Important Requirement
Build Your Dream Home With a One-Time Close Loan
SEE YOUR CREDIT SCORES From All 3 Bureaus
Do you know what's on your credit report?
Learn what your score means.