HUD Revises Home Loan Rules to Recognize DACA
June 15, 2021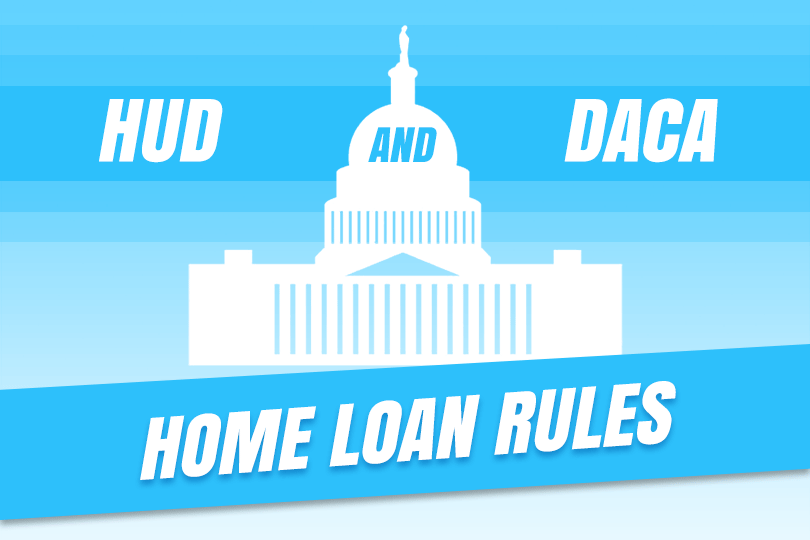 The Department of Housing and Urban Development has announced changes to its policies that govern consideration for those who seek FHA home loans while in the United States under the Deferred Action for Childhood Arrivals (DACA) program.
In 2012, the Department of Homeland Security announced that those who entered the United States as minors, and who meet "certain additional guidelines" are eligible to request deferred action from prosecution for removal (where applicable) for two years, subject to renewal. This makes those eligible under DACA to work legally in the United States during the "period of deferred action."
FHA loan guidelines have long included provisions for "non-resident permanent aliens" and other non-U.S. citizens in the country legally. HUD has now amended its rules to include those who are in the country under DACA for consideration under the FHA Single Family home loan program.
Basically this means that anyone in the U.S. under DACA may apply for an FHA home loan and be recognized as someone in the country legally and working legally if they meet the applicable FHA and HUD requirements.
Those in the country as refugees or who seek asylum must, in the course of applying for an FHA mortgage, not provide the following documentation:
Employment Authorization Document (USCIS Form I-766) OR;
USCIS Form I-94 indicating refugee or asylum status, OR;
USCIS Form I-797 notice indicating approval of a USCIS Form I-589, Application for Asylum or Withholding of Removal substantiating the refugee or asylee status.
In cases where an Employment Authorization Document(USCIS Form I-766) or evidence of H-1B status will expire within one year and "a prior history of residency status renewals exists", the new rules say a participating lender may assume "that continuation will be granted. If there are no prior renewals, the Mortgagee must determine the likelihood of renewal based on information from the employer or the USCIS."
All typical FHA loan rules apply for these mortgages, when approved. Homes purchased with FHA mortgages must be primary residences and all required identification typically required for application must be provided.
The FHA loan rulebook, HUD 4000.1, will be amended to include two basic types of categories of those who are allowed consideration for an FHA mortgage--"Permanent Residents" and "Non-Permanent Residents."
These rules go into effect no later than July 26, 2021, though participating lenders may begin using the new rules immediately upon publication if they so choose.
------------------------------
Learn About the Path to Homeownership
Take the guesswork out of buying and owning a home. Once you know where you want to go, we'll get you there in 9 steps.
Step 1:
How Much Can You Afford?
Step 2:
Know Your Homebuyer Rights
Step 3:
Basic Mortgage Terminology
Step 4:
Shopping for a Mortgage
Step 5:
Shopping for Your Home
Step 6:
Making an Offer to the Seller
Step 7:
Getting a Home Inspection
Step 8:
Homeowner's Insurance
Step 9:
What to Expect at Closing
Do you know what's on your credit report?
Learn what your score means.