FHA Construction Loans Compared With FHA New Purchase Loans
April 11, 2021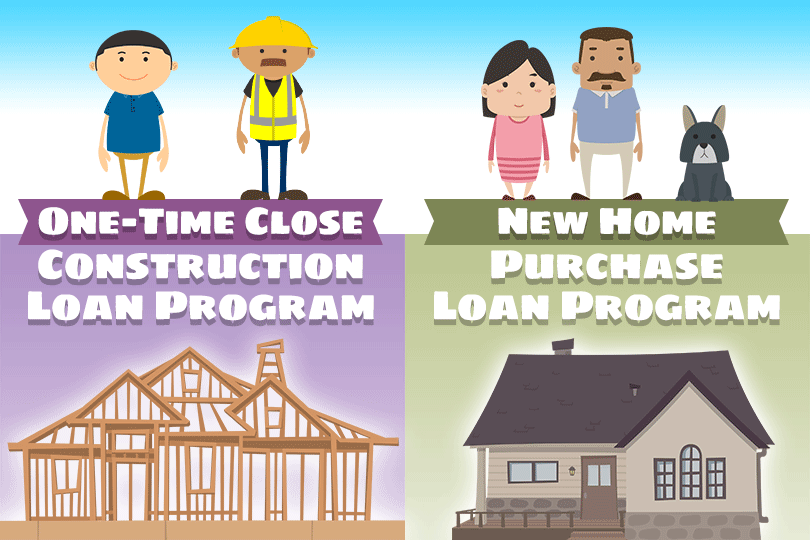 Can't decide whether to build or buy? Sometimes you need a side-by-side comparison of your mortgage loan options to make a decision.
Which to Choose?
What is the biggest difference between a construction mortgage and buying an existing home? Control over how your new home looks.
Yes, you can purchase a fixer-upper and modify an existing home using an FHA 203(k) Rehabilitation mortgage. But with a One-Time Close construction loan you get to approve even the basic look and presentation of the home.
Yes, some borrowers need their new homes faster than others and for those in a hurry to move in the construction loan option might not be a good one. But if your priorities include having more control over the design and you are able to spend a little extra time to get your home just right, the One-Time Close loan may be your best option.
Qualifying for the Loan
FHA One-Time Close loans (as well as VA One-Time Close or the USDA equivalent) have some differences from existing construction mortgages. Some of these differences involve lender requirements while others are FHA loan program guidelines.
For example, on paper FHA loan requirements for One-Time Close construction loans are no different than any other FHA mortgage. You have a minimum down payment of 3.5%, there is a minimum FICO score requirement for maximum financing, etc.
But FHA lenders may require a slightly higher FICO score range for construction loans than for existing construction and that is one reason why you will want to shop around for a lender--your current financial institution might not have the best deal going.
FHA lenders commonly allow down payment assistance on purchase loans involving homes already built, but you may find that in order to qualify for a construction loan you cannot use any down payment grant programs.
It's not an FHA rule but many lenders will want you to have the ability to come up with the down payment as a condition of loan approval.
More on One-Time Close Construction Loan Down Payments
One aspect of One-Time Close mortgages that is different than buying an existing house? You may be able to forgo the down payment if you already own the land your new home will be built upon. This is thanks to something known as land equity and the down payment issue will depend on how much equity is available. Those who buy existing construction homes from someone else do not have a land equity option.
------------------------------
RELATED VIDEOS:
Understand the Reasons for Private Mortgage Insurance
Carefully Read Your Closing Disclosure
Buying a Home With a Co-Borrower
SEE YOUR CREDIT SCORES From All 3 Bureaus
Do you know what's on your credit report?
Learn what your score means.