Five Things to Know About FHA Home Loans
March 18, 2021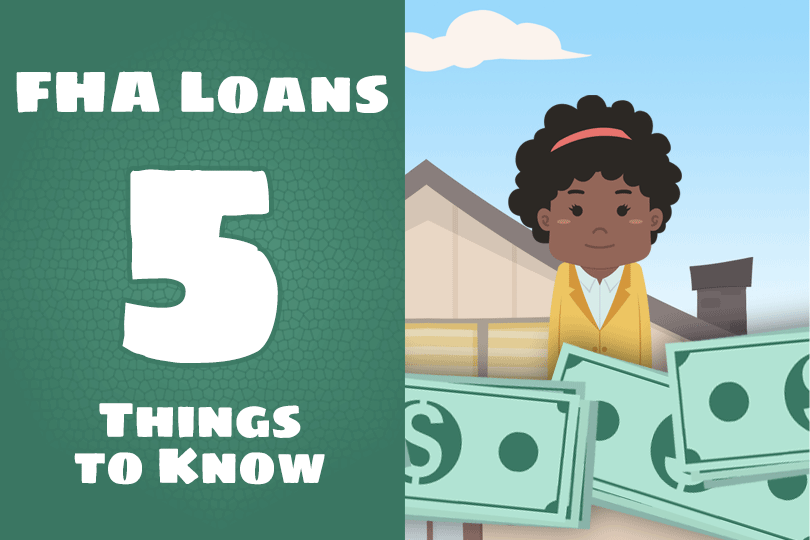 If you want to buy or refinance a home there are five things you should know about FHA home loans as an alternative to conventional loans. Don't apply for a mortgage or refinance loan without understanding these five things, even if you decide in the end not to choose an FHA home loan. Making the most informed decision you can is very important when you're considering a large investment.
#5) FHA Home Loans Versus Conventional Mortgage Down Payments
While it's true that Fannie/Freddie make the "Conventional 97" loan an option featuring a slightly lower down payment for this conventional mortgage (three percent) compared to the 3.5% down required for FHA mortgages, there's a catch.
With a Conventional 97 mortgage, you can only purchase a single-unit home (FHA loans allow you to buy a home with as many as four living units), and there is a cap on the size of the loan you can get even in a high cost market with a Conventional 97. Compare the cap on those loans to the FHA loan limits in your area. You may be surprised at how much loan you can qualify for in the FHA mortgage program.
#4) FHA Mortgages Have No Penalty for Early Payoff
When you refinance or pay off the mortgage early in other ways, some mortgages may subject you to a financial penalty for doing so. Your loan may also have a different procedure for making the final payment--be sure to know before you commit.
#3) FHA Mortgage Options Include Streamline Refinancing
When you get an FHA mortgage, you have the option to apply for an FHA Streamline Refinance loan which has no FHA required credit check or appraisal. Does the non-FHA loan you're considering feature such an option?
#2) FHA Home Loans Are Assumable
With the participation of the lender, your FHA home loan can be assumed by another person. Some buy a home with this specific idea in mind--they want to transfer the property to a relative or friend down the line. FHA home loan rules in HUD 4000.1 allow this and it is an alternative to purchasing property with a non-occupying co-borrower.
#1) FHA Loans Are Government Backed
Why is that important to some borrowers? Because in a time of crisis such as a natural disaster, pandemic, or other troubles, the federal government issues guidance to participating FHA lenders requiring foreclosure avoidance, offering mortgage relief, and in some cases the ability to delay or suspend payments with the approval of the FHA/HUD. Conventional lenders have no such government mandates to provide more options, loan forbearance or foreclosure avoidance measures. Your options under an FHA home loan may be better in some cases than those associated with a conventional lender depending on circumstances.
------------------------------
RELATED VIDEOS:
Let's Talk About Home Equity
Understanding Your Loan Term
Your Home Loan is Called a Mortgage
SEE YOUR CREDIT SCORES From All 3 Bureaus
Do you know what's on your credit report?
Learn what your score means.