One-Time Close Loan Advice: Hiring A Contractor
February 23, 2021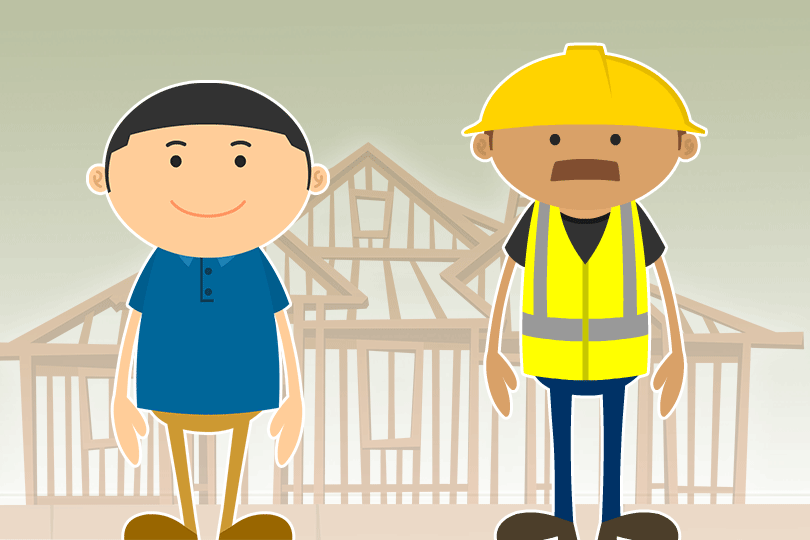 If you want to build a home on your own lot using a One-Time Close construction mortgage, one thing you'll be required to do is hire a contractor to do the work. One-Time Close (OTC) loans are different than other home loans that involve using a builder, performing rehabilitation or repair work, etc.
In general, OTC lenders won't let you act as your own contractor. That means you'll need to use a third party--not a relative or friend--to do the work. And what should you do when looking for a contractor?
Get References, Read Reviews
Don't hire anyone to do work for you--especially a high-value project like building a home--without getting references, reading reviews of the contractor's past work, etc. One excellent way to learn more about any given contractor is to take that company name, do a Google search with it and keywords like "scam" or "rip-offs" and see what comes up.
Keep in mind that a negative review here and there isn't always an indication of a ripoff operation--some business transactions wind up in disputes and sometimes a bad review is actually a "revenge review". But when there are multiple complaints that all have similar details? THAT could be a warning sign.
Do Some Homework
How long has your contractor been in business? What kind of qualifications does the contractor have? Is there a listing in the Better Business Bureau? Are there complaints registered at the Better Business Bureau? Ask the contractor how many projects that company has completed in the last year or so, and be sure to ask for references.
Also important--asking if the contractor is licensed and what those licenses are? Know these details before you commit.
Other Questions To Ask
Ask your potential contractor whether sub-contractors will be used--this is an important detail. If they will be used, ask about the insurance coverages the subcontractor will carry as well as what insurance the contractor themselves carry.
Your builder and sub-contractors should have personal liability insurance, worker's compensation, and property damage insurance.
Also be sure--before you commit--that you know the contractor's policies for site cleanup, to include trash hauling or dumpster management, dealing with spills or other problems on the job site, etc. And remember that unless you get promises IN WRITING, you may have difficulty enforcing them. Get all promises or guarantees on paper.
FHA, VA, and USDA: One-Time Close Loans
Learn More About FHA One-Time Close Construction Loans
We have done extensive research on FHA One-Time Close mortgages and spoke directly to the licensed lenders for most states. These are qualified mortgage loan officers who work for lenders that know the product well.
Each company has supplied us the guidelines for their product. If you are interested in being contacted by one licensed lender in your area, please respond to the below questions to save time. All information is treated confidentially.
Your response to
[email protected]
authorizes FHA.com to share your personal information with a licensed mortgage lender in your area to contact you.
Please note that the FHA One-Time Close Construction Program only allows for single family dwellings (1 unit) – and NOT for multifamily units (no duplexes, triplexes or fourplexes).
1. Send your first and last name, e-mail address, and contact telephone number.
2. Tell us the city and state of the proposed property.
3. Tell us your credit score and/or the Co-borrower's credit score, if known. 620 is the minimum qualifying credit score for this product.
4. Are you or your spouse (Co-borrower) eligible veterans?
5. If either of you are eligible veteran's, the down payment is $0 up to the maximum VA lending limit for your county. If not, the FHA down payment is 3.5% up to the
maximum FHA lending limit for your county.
SEE YOUR CREDIT SCORES From All 3 Bureaus
Do you know what's on your credit report?
Learn what your score means.