Introduction to VA One-Time Close Construction Mortgages
September 24, 2020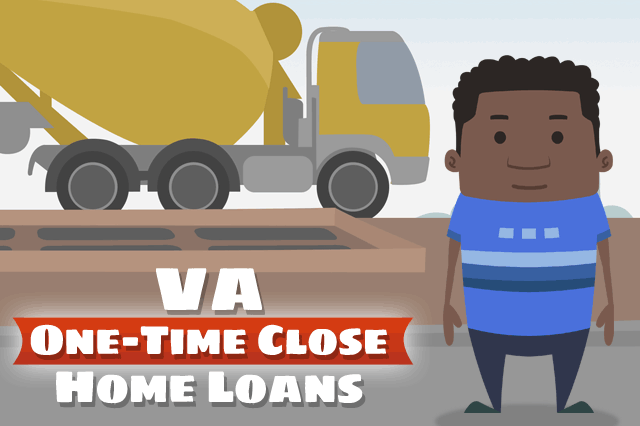 The One-Time Close loan is a type of mortgage for those who wish to build a home on their own lot or on land they purchase in conjunction with the plans to build. These mortgages are offered to qualifying military members and certain surviving spouses of military members who have died as a result of military service.
The VA One-Time Close construction loan is offered with the same terms as any other VA home loan. It features no down payment in most cases, no mortgage insurance requirement, and there is no penalty for early payoff of the mortgage.
VA construction loans are a unique type of mortgage loan, but even a qualified first-time home buyer is permitted to apply. But there are things a borrower should know about these loans. One important issue--time.
Building a home on your own lot means you will need to build in time for the construction to complete--you'll need to anticipate keeping your current housing (or making other housing arrangements) long enough for the construction phase to complete, have inspections completed, etc.
The benefits of taking that extra time are obvious--the ability to approve the design of your home, choose the materials you prefer and be involved in the decision making process for other aspects of the home.
VA construction loans are for approved housing types--some types of home cannot be approved under this program. These include:
Barndominiums (metal buildings with inside living quarters)
Kit homes
Log cabin homes
Shipping container homes
Stilt homes
Solar-powered homes
Tiny homes / tiny houses
Wind powered homes
Other restrictions may, depending on the lender, include restrictions on the use of down payment grants.
While VA construction loans don't require a down payment in most cases, borrowers with FICO scores that would require money down will be required to provide the funds without outside assistance. The same is true of those who don't have to make a down payment but choose to do so anyway to lower the amount of their VA loan funding fee or to cut the total cost of the loan overall.
VA construction loans may have a few extra restrictions compared to buying an existing construction home, but they definitely provide an advantage for people who want a more customized home from Day One.
------------------------------
RELATED VIDEOS:
Here's the Scoop on Conventional Loans
When Do You Need a Cosigner?
Analyzing Your Debt Ratio
SEE YOUR CREDIT SCORES From All 3 Bureaus
Do you know what's on your credit report?
Learn what your score means.