COVID-19 Update: Mortgage Forbearance for Struggling Borrowers
May 16, 2020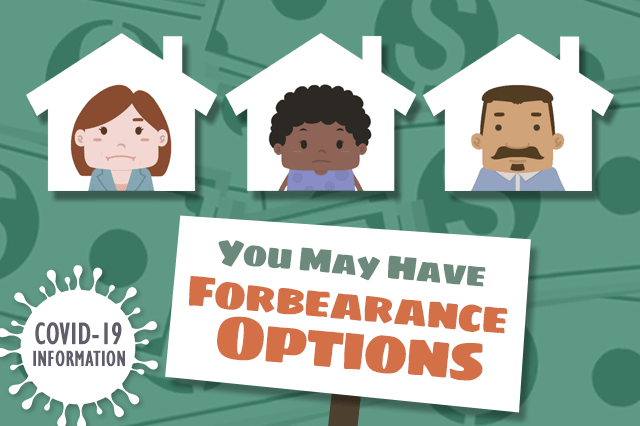 Are you struggling to pay your mortgage during COVID-19? Those who need it can apply for mortgage forbearance, but you should understand the choices open to you--not just for the forbearance period itself, but also for repaying the money you don't pay during the forbearance period.
Mortgage Forbearance: Delayed Payments, Not Skipped Payments
You may choose to stop making payments for up to a full year (conditions or application procedures may vary depending on the lender) and choose a method to repay the amount of delayed payments you agree upon with the lender.
Remember, loan forbearance does NOT mean forgiveness---those payments will come due, just not during the forbearance period.
When Forbearance Ends
When the forbearance period ends? The borrower must resume making payments and uphold the agreement to repay the delayed mortgage payments. How do you pay those? This is where a conversation with your lender about options is required.
For some loans such as those backed by Fannie Mae and Freddie Mac, borrowers with a financial hardship must anticipate paying back missed payments in one of the following ways:
Repayment plan;
Loan modification adding the missed payments to the end of the mortgage;
Request a mortgage loan modification reducing monthly mortgage payments instead of skipping payments entirely.
It is in the borrower's interest to avoid a lump sum repayment wherever possible; some programs specifically address this issue, others may not. Ask your lender.
One Size Does Not Fit All: You Have Repayment Options
Work with your loan servicer to come up with a repayment plan that works for you. Should you ask for reduced mortgage payments instead of completely stopping them for the forbearance period? That will depend greatly on your financial needs and goals.
Timing is everything when it comes to loan forbearance--act NOW if you are in trouble with your mortgage no matter what programs or services may be offered at the time.
Your lender has more options to work the earlier you call. Some loan options are only available for those who have missed no payments or only one, others may be possible after more than one missed payment but your options get fewer the longer you wait. Act now.
------------------------------
RELATED VIDEOS:
You're Almost There When You Get Your Loan Approval
Learn About the Mortgage Insurance Premium (MIP)
Pre-approval Starts the Mortgage Process
SEE YOUR CREDIT SCORES From All 3 Bureaus
Do you know what's on your credit report?
Learn what your score means.