Refinance Loan Applications During Coronavirus
March 22, 2020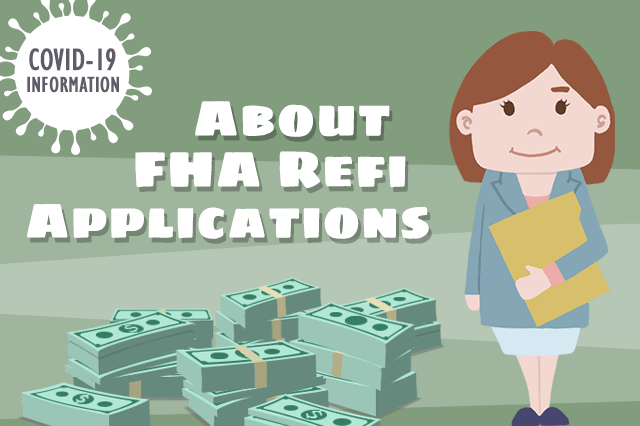 At one point during the Coronavirus crisis, fears of COVID-19 kept many people at home, affecting several aspects of the mortgage industry; mortgage applications for the week ending March 20 were down significantly; refinance loan applications spiked at one point during the outbreak. Believe it or not, some sources report the spike was above 100%.
But the rush to refinance didn't last and the number of refi applications fell in the wake of that spike.
At the time of this writing, the refinance frenzy also saw fluctuating interest rates and those who had hurried into a refinance loan package to get in on mortgage loan interest rates below the three percent line wouldn't be in such a hurry now.
Not to say that interest rates are BAD. But there is (at press time) still much up and down on the market and volatility is still the word of the day. There will be more fluctuations before the crisis ends.
But the good news this week for those who tried to apply during the worst of the refinance chaos is that overall refi loan application volume is down and it will be easier to find a lender with lower demand.
What do you need to know about applying for a refinance loan at the moment? You should aggressively shop around for the right lender for the best rates and terms, and you should pre-qualify for a loan when the time is right. Don't enter your house hunting phase without talking to a lender.
Interest rates will continue to suffer the whims of the coronavirus economy, but with the passage of the $2 trillion economic stimulus package, many potential borrowers find themselves with a stimulus check coming from the government.
Such a check could be used to pay down closing costs on a refinance loan to get you into a lower interest rate, a lower monthly payment, or even getting out of an adjustable rate mortgage and into a fixed-rate note.
Many homeowners are turning toward refinance loans at this time; those who have existing FHA mortgages have an added refinance loan advantage in the form of the FHA Streamline Refinance, which has no FHA-required credit check and no FHA-required appraisal. The loan is only for FHA-to-FHA refinances but in most cases must result in a benefit to the borrower.
Ask your lender about the FHA Streamline refinance loan option compared to other refi loans. You'll be glad you did.
------------------------------
RELATED VIDEOS:
Annual Income Requirements for FHA Loans
Good Credit History Helps Get FHA Loans
Stay Informed About Your Mortgage Closing Costs
SEE YOUR CREDIT SCORES From All 3 Bureaus
Do you know what's on your credit report?
Learn what your score means.