FHA Announces Coronavirus-Related Changes to Loan Approval Rules
March 30, 2020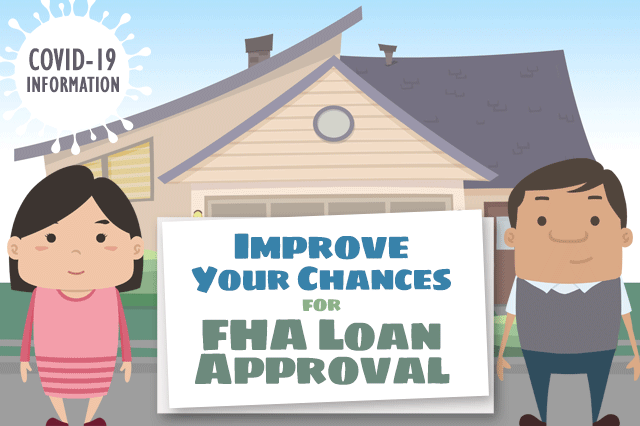 The FHA and HUD have announced changes to loan approval rules for certain mortgages during the coronavirus outbreak. Recently the FHA and HUD issued a mortgagee letter announcing that appraisal rules had been temporarily modified to permit exterior-only appraisals for FHA home loans and reverse mortgages.
That announcement contained several temporary policy changes due to COVID-19 / coronavirus containment issues. The exterior-only alteration allows the appraiser to do her work without entering confined spaces that could put the appraiser at risk of infection.
But one of the other temporary policy modifications involves what the lender is required to do to verify employment of the FHA home loan applicant(s).
An FHA mortgagee letter explains that certain measures were needed to, "maintain the stability" of the FHA loan program, "while concurrently aiding the housing market generally," the agency is offering lenders "alternatives for re-verification of employment."
What does this mean?
When you apply to buy or build a home with an FHA mortgage, your lender is required to verify your employment to insure it is stable, reliable, and likely to continue. But did you know that is not the only time your loan officer must verify your income and employment? The lender is typically charged with doing so AGAIN ten days "before the note."
You read that correctly; your loan officer will double check your job status a second time before your closing date. But under the revised guidance for these issues during the coronavirus, "Mortgagees do not need to provide a re-verification of employment within 10 days of the Note" as long as the lender "is not aware of any loss of employment by the borrower."
That sounds easy, but it requires some additional steps. The lender will ask the borrower for:
Evidence the borrower has a minimum of two months of Principal, Interest, Taxes and Insurance in reserves;
A year-to-date pay stub or direct electronic verification of income for the pay period that immediately precedes the Note date OR;
A bank statement showing direct deposit from the Borrower's employment for the pay period that immediately precedes the Note date.
These modified rules are not permanent. They are enforced(unless extended by the government, which is always a possibility) effective immediately for FHA loans closed on or before May 17, 2020.
------------------------------
RELATED VIDEOS:
Sometimes It Pays to Refinance
Don't Forget Your Closing Checklist
Monthly Payments Establish Good Credit
SEE YOUR CREDIT SCORES From All 3 Bureaus
Do you know what's on your credit report?
Learn what your score means.