One-Time Close Construction Loan Advice
February 29, 2020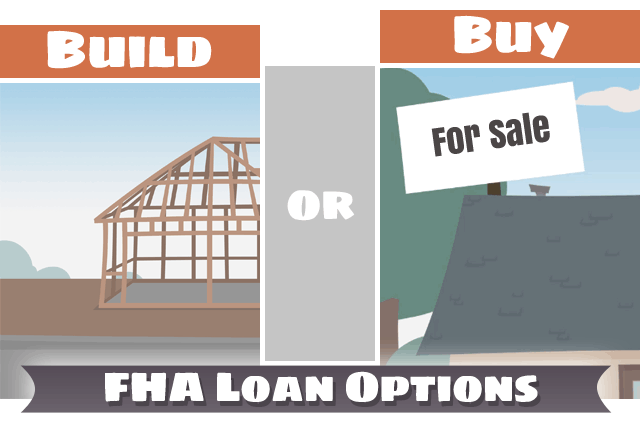 A One-Time Close construction loan is designed to let you build a house on your own lot instead of buying an existing property. Do you want to design and build your own home using licensed contractors and plans created by a professional? You'll get to approve of the design before a single nail goes into the wood.
One-Time Close Loans: You CAN Build a Home Instead of Buying One
There are multiple government-backed One-Time Close mortgages, even need-based home loans that still allow you to build a home from the ground up. The need-based construction loans come via the USDA home loan program, but two other government backed construction loans are NOT need-based.
VA construction loans are offered to veterans, currently serving military members, and certain surviving spouses. These construction loans feature zero down payment and no VA-required mortgage insurance. They are perfect for military families, retirees, and anyone else who qualifies for the loan and wants to build a home.
Compare Costs And Don't Assume Building Is Out of Your Price Range
It's easy to assume that building a home will cost you more money than buying an existing construction property. But what kind of home do you need? Are you building a house to start a family in? Or are you building a home that you want to retire in?
Construction loans allow you to have a say in the design of the property, and "going green" is a concern for many. One advantage you have in building instead of buying?
Knowing how energy efficient and environmentally friendly your new home is based on what you decide on the design. Knowing that you will save money on your utilities even during the earliest days of your occupancy is not just comforting, but also a big help for some budgets.
Construction Loans Aren't Just for "Certain" Home Buyers
Do you think you won't qualify for an FHA construction loan or a VA construction loan because you are not a first-time home buyer? This is not true.
FHA credit score requirements state FICO scores 500 or above typically qualify under FHA guidelines. FICO score ranges between 500 and 579 technically qualify for FHA home loans at a higher down payment (10%).
FHA loan standards say FICO scores at 580 or higher qualify for the lowest down payment under FHA rules. However, lender standards also apply, so be sure to ask your loan officer. Construction loans may feature different lender standards than others. But FICO score requirements are just part of the loan approval picture--ask your loan officer what makes an ideal applicant for a construction loan.
FHA, VA, and USDA: One-Time Close Loans
Learn More About FHA One-Time Close Construction Loans
We have done extensive research on FHA One-Time Close mortgages and spoke directly to the licensed lenders for most states. These are qualified mortgage loan officers who work for lenders that know the product well.
Each company has supplied us the guidelines for their product. If you are interested in being contacted by one licensed lender in your area, please respond to the below questions to save time. All information is treated confidentially.
Your response to
[email protected]
authorizes FHA.com to share your personal information with a licensed mortgage lender in your area to contact you.
Please note that the FHA One-Time Close Construction Program only allows for single family dwellings (1 unit) – and NOT for multifamily units (no duplexes, triplexes or fourplexes).
1. Send your first and last name, e-mail address, and contact telephone number.
2. Tell us the city and state of the proposed property.
3. Tell us your credit score and/or the Co-borrower's credit score, if known. 620 is the minimum qualifying credit score for this product.
4. Are you or your spouse (Co-borrower) eligible veterans?
5. If either of you are eligible veteran's, the down payment is $0 up to the maximum VA lending limit for your county. If not, the FHA down payment is 3.5% up to the
maximum FHA lending limit for your county.
SEE YOUR CREDIT SCORES From All 3 Bureaus
Do you know what's on your credit report?
Learn what your score means.