Applying for a 2020 One-Time Close Construction Loan
January 9, 2020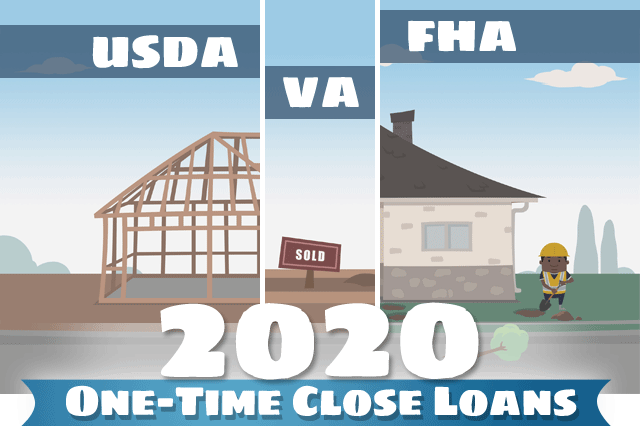 FHA One-Time Close construction loans are intended to help those who want to own and occupy a home to build from the ground up on their own land. There is also a VA loan equivalent to the FHA construction loan that, starting in 2020, features no down payment in most cases AND the ability to build a home from the ground up with no VA loan guaranty limit.
When you apply for a construction loan or any other type of home loan, you will have certain paperwork and documentation that must be submitted to the lender as part of the application process.
The participating lender will need a range of financial information including your bank account numbers, tax information, and even a list of residences and employers from the last two years. This information is used to determine the borrower's credit, income, and employment with the most up-to-date information available.
Tax Info Needed
Most mortgage loan applicants (for construction loans or otherwise) are required to furnish copies of their W2s from the last two years.
W2s document the borrower's net and gross income plus applicable taxes and withholding, and serves as a record of actual wages earned (which verifies what the borrower listed as income on the FHA mortgage loan application).
HUD 4000.1 requires the lender to "...obtain complete individual federal income tax returns for the most recent two years, including all schedules." HUD 4000.1 also weighs in on self-employed borrowers--these applicants have additional requirements including two years of tax returns.
Proper Sourcing Required
Borrowers must respect the FHA loan requirements for the chain of custody for such information. The buyer is not allowed to hand in copies of the tax filer's copies of tax returns--the tax returns must be sent directly from the IRS, just like credit reports must come directly from the credit reporting agencies.
Borrowers may be required to sign a release authorizing the underwriter or loan officer to request IRS forms on your behalf.
If you are applying for a construction loan and are NOT self-employed, you may be able to furnish the W2s with no additional paperwork needed except for that which may be required by the FHA or banking regulations, but release forms may still be required so the lender can obtain credit reports and related information.
FHA, VA, and USDA: One-Time Close Loans
Learn More About FHA One-Time Close Construction Loans
We have done extensive research on FHA One-Time Close mortgages and spoke directly to the licensed lenders for most states. These are qualified mortgage loan officers who work for lenders that know the product well.
Each company has supplied us the guidelines for their product. If you are interested in being contacted by one licensed lender in your area, please respond to the below questions to save time. All information is treated confidentially.
Your response to
[email protected]
authorizes FHA.com to share your personal information with a licensed mortgage lender in your area to contact you.
Please note that the FHA One-Time Close Construction Program only allows for single family dwellings (1 unit) – and NOT for multifamily units (no duplexes, triplexes or fourplexes).
1. Send your first and last name, e-mail address, and contact telephone number.
2. Tell us the city and state of the proposed property.
3. Tell us your credit score and/or the Co-borrower's credit score, if known. 620 is the minimum qualifying credit score for this product.
4. Are you or your spouse (Co-borrower) eligible veterans?
5. If either of you are eligible veteran's, the down payment is $0 up to the maximum VA lending limit for your county. If not, the FHA down payment is 3.5% up to the
maximum FHA lending limit for your county.
SEE YOUR CREDIT SCORES From All 3 Bureaus
Do you know what's on your credit report?
Learn what your score means.