What's the Difference Between Construction Loans and Rehab Loans?
December 16, 2019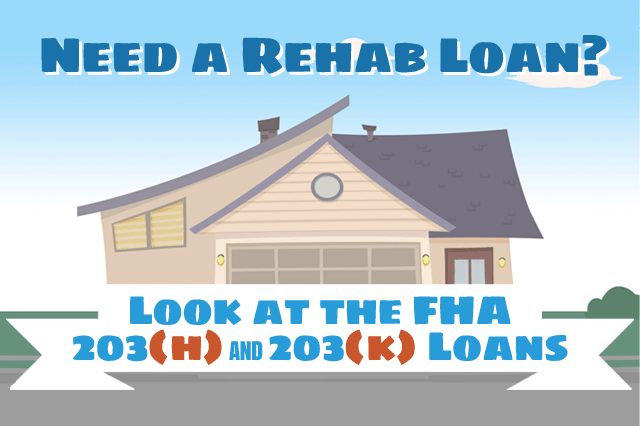 Do you know what the difference is between a construction loan such as an FHA One-Time Close loan, and a rehab mortgage?
Both types of home loans require the use of a contractor, require plans, approved project details, and a period of time where the home may not be habitable while the construction or rehabilitation work is happening.
Some people want to build on their own land using either an FHA mortgage with a low 3.5% down payment requirement in most cases, or a VA construction loan (for eligible borrowers who have served a minimum required time in uniform) that requires 0% down.
Others may want to buy a fixer-upper and use an FHA rehab loan to repair and renovate the property instead. And still others may be interested in buying a fixer upper to "flip", or repair and resell within a short period of time.
Property flipping is generally discouraged by FHA loan rules in HUD 4000.1. According to page 146, "A Property that is being resold 90 Days or fewer following the sellers date of acquisition is not eligible for an FHA-insured Mortgage."
But for those who wish to be owner/occupiers, an FHA rehab loan is an excellent option to consider. The borrower is not restricted in any way from freely selling or transferring a property to another person once the deal is closed.
But for property flippers there IS a restriction on a lender trying to approve a home loan for properties which have been in the current owner's possession for 90 days or less.
FHA construction loans and FHA rehab loans have similar requirements. Whether you want to build on your own land or buy a fixer-upper property to renovate with an FHA Rehab loan, both types of mortgages require occupancy, and both require the home to be brought up to FHA standards and local building code as a condition of loan approval.
Rehab loans are good for the borrower who doesn't want to customize the entire house with a floor plan created especially for them, but do want to remodel in interior, improve the exterior, etc. Construction loans are great for the person who wants every aspect of the home to be something the borrower personally approves of.
Rehab loans and construction loans are two different things; there isn't a one-size fits all FHA loan for both renovation and new construction. Ask your loan officer to explain the nuances of the loan program that works best for your specific needs to buy or build a home.
FHA, VA, and USDA: One-Time Close Loans
Learn More About FHA One-Time Close Construction Loans
We have done extensive research on FHA One-Time Close mortgages and spoke directly to the licensed lenders for most states. These are qualified mortgage loan officers who work for lenders that know the product well.
Each company has supplied us the guidelines for their product. If you are interested in being contacted by one licensed lender in your area, please respond to the below questions to save time. All information is treated confidentially.
Your response to
[email protected]
authorizes FHA.com to share your personal information with a licensed mortgage lender in your area to contact you.
Please note that the FHA One-Time Close Construction Program only allows for single family dwellings (1 unit) – and NOT for multifamily units (no duplexes, triplexes or fourplexes).
1. Send your first and last name, e-mail address, and contact telephone number.
2. Tell us the city and state of the proposed property.
3. Tell us your credit score and/or the Co-borrower's credit score, if known. 620 is the minimum qualifying credit score for this product.
4. Are you or your spouse (Co-borrower) eligible veterans?
5. If either of you are eligible veteran's, the down payment is $0 up to the maximum VA lending limit for your county. If not, the FHA down payment is 3.5% up to the
maximum FHA lending limit for your county.
SEE YOUR CREDIT SCORES From All 3 Bureaus
Do you know what's on your credit report?
Learn what your score means.