Buying a Home in 2020: Low Interest and Foreclosure Rates
December 1, 2019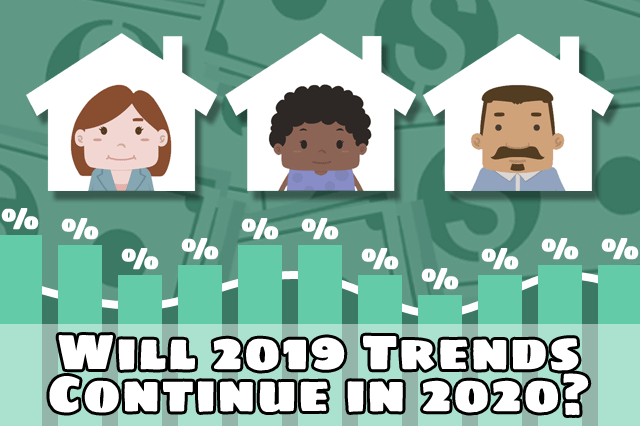 Are you thinking about buying a home in 2020? Mortgage loan interest rates on FHA, VA, and conventional home loans were at incredible lows in 2019. Will these trends continue into the new year?
That is a question that is impossible to answer accurately, but an observation of recent trends in the last quarter of 2019 show that a degree of volatility in rates could be present in the new year.
A variety of factors influence how investors will act in the new year; Brexit, Fed actions on interest rates, the trade war with China, domestic political acts, and even Twitter posts from the Oval Office may have short-term effects or longer depending on circumstances.
All this adds up to one thing; it's not safe to assume the rates and terms available at this moment will continue into the new year.
But it's also not a good idea to rush into a mortgage loan in hopes of saving money on interest rates. If you aren't ready to apply, the risk of being turned down for a loan is not worth the effort if your chances dramatically improve by waiting until you are ready.
If you want to buy a home in the new year, remember that another changing factor is the FHA loan guaranty limits for the new year.
These limits are reviewed annually; they do not always change, but in 2019 the FHA loan guaranty rate increased for most counties; even if the rate stays the same in 2020, there is still more borrowing power for financially qualified applicants compared to years past.
What can you do to get ready for a home loan in the new year? Keep watching your credit, work hard to reduce the amount of credit used on your credit cards (well below 50% is recommended, below 30% of your credit limit is ideal).
Try to set aside a little additional money just in case you find a home that appraises for lower than the asking price.
With an FHA mortgage you still have the option to buy a home that has an appraised value lower than the seller's price, but unless you renegotiate with the seller, you would be required to pay the difference in cash at closing time.
You can't be forced to close the deal, but if you want the house badly enough and have the cash to pay the difference, it's a good option to think about for just the right property. For those who do not want to pay the difference, you cannot be penalized or charged a fee to exercise your right to walk away from the sale if the sale price is higher than the appraised value of the home.
------------------------------
RELATED VIDEOS:
Learn How to Meet FHA Requirements
A Few Tips About Your Fixed Rate Mortgage
Your Proof of Ownership Is the Property Title
SEE YOUR CREDIT SCORES From All 3 Bureaus
Do you know what's on your credit report?
Learn what your score means.