Credit Problems? FHA Home Loan Approval Issues
March 23, 2021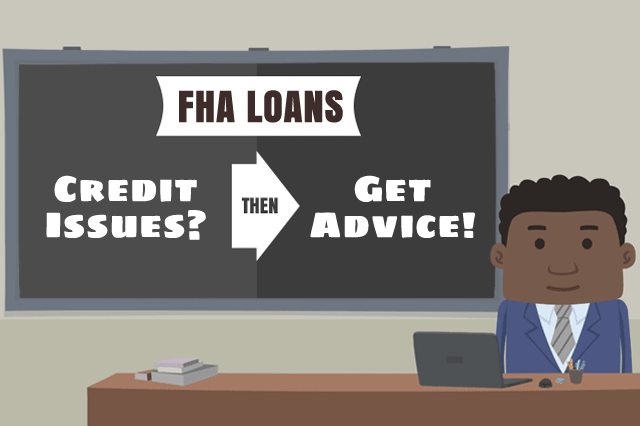 There are many borrower questions about how to get approved for a home loan. One variation on a common theme is, "Will I qualify for an FHA home loan even though I have a bankruptcy / foreclosure / repossession on my credit record?"
It's good to be concerned about such issues. After all, the lender will be, and having a major negative credit event on your record can be a problem. But what DOES it mean to have a car repossessed, a foreclosure, etc. ahead of applying for a mortgage loan?
Credit Problems May Be Reviewed on a Case-By-Case Basis
Even with a bankruptcy filing, there is no generic approach to a borrower's credit problems because they are all based on individual circumstances.
If you have credit problems in your past, the lender will address those in some cases by asking for written documentation from you detailing the credit issues and explaining how things were resolved.
The lender's request in this area isn't punitive and does not mean an automatic "no" for your home loan. What it does mean is that the lender is willing to look into your circumstances and make a determination based on the documentation.
Credit Problems May Be Circumstantial
Getting your FHA lender to take you seriously as a borrower when you have had past credit trouble depends on certain factors; being able to show the lender your credit troubles were caused by circumstances beyond your control, a demonstration of good credit use since the negative credit incident, and the nature of your credit issue in general.
Time Is Often the Key
Yes, it IS possible to get a home loan approved for an FHA mortgage in the aftermath of a foreclosure, repossession of a car, bankruptcy filing, etc. But the sooner you apply after one of these credit events, the worse your chances of getting the loan approved may be. The longer you wait (a minimum of one year at the very least) after a bankruptcy is discharged or a foreclosure settled and out of the borrower's name, the better.
Certain negative credit events actually require a mandatory waiting period before you are allowed to apply for another mortgage. Foreclosure and bankruptcy may, depending on circumstances, require at least 12 months, more often 24 months or longer.
You will need to ask the lender about this waiting period requirement as the actual length of time may vary depending on the lender, circumstances, and how your credit has been utilized in the meantime.
------------------------------
RELATED VIDEOS:
Consider the Benefits and Risks of a Joint Loan
Borrowers Should Know About the Origination Fee
Everyone Needs to Pay Their Property Tax
SEE YOUR CREDIT SCORES From All 3 Bureaus
Do you know what's on your credit report?
Learn what your score means.