FHA Home Loans: 20% Down Is Not Necessary
August 7, 2021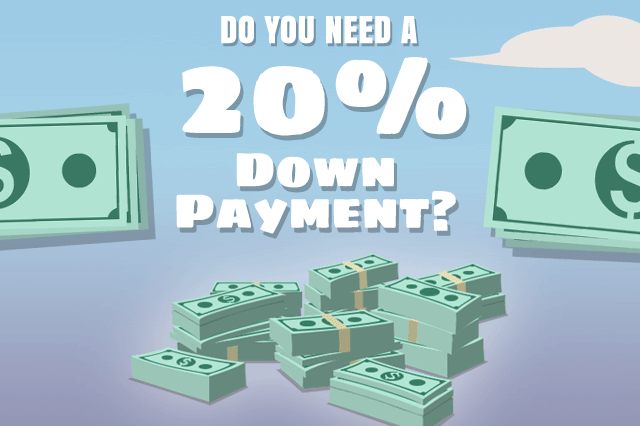 Do you really have to make a 20% down payment to get into a home loan? Not with an FHA mortgage. FHA loan program down payment minimums are 3.5% for borrowers with FICO scores at 580 or better.
FHA loan program rules for borrowers with FICO scores between 500 and 579 require a 10% down payment, but nothing as high as 20%.
Before proceeding further, it's important to point out that these are the minimum requirements as stated by the FHA, and lender standards may be higher. But in general, borrowers are not asked to pay 20% down on FHA loans.
So why do people assume 20% down is required to buy a home?
That part is fairly simple; 20% down payments are required by many conventional mortgages to avoid having to carry Private Mortgage Insurance (PMI). FHA loans do not require PMI but do have a mortgage insurance premium and an Up-Front Mortgage Insurance Premium.
The Up-Front premium is paid in cash at closing time or is financed into the mortgage (borrower's choice). The monthly mortgage insurance premium must be paid for either 11 years or the lifetime of the mortgage depending on a variety of factors including the LTV and the term of the mortgage.
The shortest answer to the most common question about FHA home loan down payments is, "No, you do not have to put 20% down on an FHA mortgage".
That said, there are good arguments for making a larger-than-required down payment, but much depends on your financial needs and goals. If you do not plan on staying in the house long-term, the savings (in interest payments) you would realize from a larger down payment may not be applicable.
Paying more up front saves you money over the lifetime of the loan, but if you already feel you won't stay in the home for the entire term of the loan, paying more up front may not be in your best financial interests (at least where saving money on interest rates is concerned).
So it is a very good idea, when contemplating your down payment priorities, to consider your future plans and goals for the home. Some realize early they are buying a starter home and will eventually move. Others don't have as clear a picture of what the future holds and may decide they need to stay in the house long-term.
These are important factors to consider when buying a home. The budgeting and saving you do for your down payment can be affected by such future plans, as can other aspects of your transaction such as choosing to pay for discount points (for a lower mortgage rate), deciding on a fixed-rate or adjustable rate mortgage, etc.
------------------------------
RELATED VIDEOS:
Home Equity Can Secure Your Second Mortgage
Consider the Advantages of Discount Points
FHA Limits are Calculated and Updated Annually
SEE YOUR CREDIT SCORES From All 3 Bureaus
Do you know what's on your credit report?
Learn what your score means.