FHA Adjustable Rate Mortgages for 2019
January 14, 2019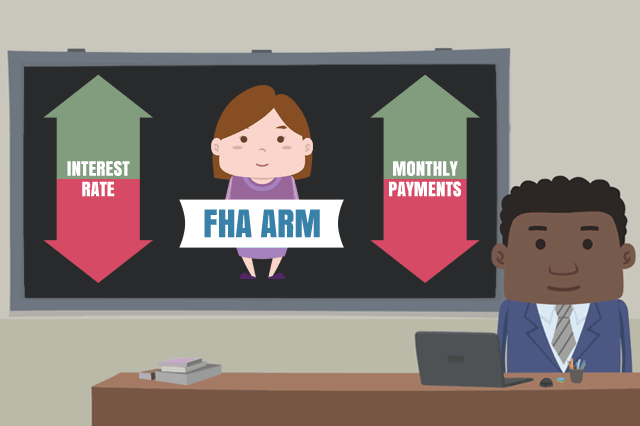 In times when mortgage loan interest rates are going up, and in times when it's not certain whether rates will rise or for how long, many homeowners or potential homeowners want to hedge their bets.
In some cases that means avoiding situations where an interest rate change could hurt a borrower, and in others it means timing a new mortgage loan to avoid getting burned by home loan interest rate increases.
Some finance and mortgage blogs are offering advice that includes exploring options on an adjustable rate mortgage. FHA home loan options include adjustable rate mortgage (ARM) loans, but why should a borrower contemplate an FHA ARM loan when there is a danger rates could increase today, tomorrow, next week?
The answer depends greatly on your financial needs and goals, but the basic structure of the FHA adjustable rate mortgage program gives a clue. That burning question again; why would you turn to an FHA adjustable rate home loan in an age of rising interest rates?
Because FHA adjustable rate mortgages offer an introductory period called a "teaser rate" by some in the industry. The introductory interest rate is required to remain the same for a fixed duration agreed upon by the lender and borrower. Consider this quote from the FHA loan rulebook, HUD 4000.1:
"The Mortgagee must establish the initial interest rate and the margin. The margin must be constant for the entire term of the Mortgage."
The interest rate on an FHA ARM loan is required to remain constant "for an initial period of 1, 3, 5, 7, or 10 years, depending on the ARM program chosen by the Borrower, and then may change annually for the remainder of the mortgage term."
What is to prevent a savvy borrower from buying a home with a lower introductory rate for 1-10 years, then refinancing into a fixed-rate mortgage?
FHA borrowers can apply to refinance with a tangible benefit to the borrower via the FHA Streamline Refinance loan program, which generally requires the borrower to get into a lower interest rate, a lower monthly payment, or some other benefit such as a fixed rate loan refinanced from an adjustable rate mortgage.
FHA Streamline Refinance loans have the option of no FHA-required credit check or appraisal. The lender's standards will determine if they are needed, but the FHA does not insist on these in many cases; where add-ons to the new loan increase the monthly payment amount above a certain percentage the credit check may be FHA-required. Ask your loan officer when such rules may apply.
Discuss your ARM loan needs with a participating FHA lender today, you may be surprised at what this option allows you to do!
------------------------------
RELATED VIDEOS:
The ARM is an FHA Adjustable Rate Mortgage
Understanding APR
The Appraisal Fee
SEE YOUR CREDIT SCORES From All 3 Bureaus
Do you know what's on your credit report?
Learn what your score means.