Debt Ratios and Mortgages for Disaster Victims
July 20, 2018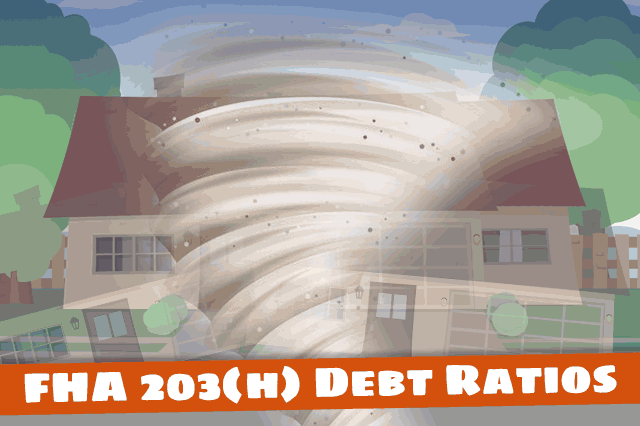 FHA 203(h) loans are intended to help those recovering from natural disasters in FEMA-declared zones known as Presidentially-Declared Major Disaster Area or PDMDAs.
These disaster relief mortgages have some similar requirements to qualify as "standard" FHA purchase or refinance mortgages, but the 203(h) offers more lenient credit and down payment requirements due to the circumstances surrounding the loan application.
For example, there is no FHA-mandated down payment requirement for a 203(h) mortgage. FICO scores for this type of loan can be as low as 500 according to HUD 4000.1. Lender standards and other requirements may also apply.
FHA 203(h) Debt Ratio Calculation Rules
When it comes to debt ratios, FHA loan rules make some allowances for certain kinds of indebtedness. The cost of the previous home, for example, may be exempted a borrower's debt-to-income ratio as described in HUD 4000.1:
"When a Borrower is purchasing a new house, the Mortgagee may exclude the Mortgage Payment on the destroyed residence located in a PDMDA from the Borrower's liabilities. To exclude the Mortgage Payments from the liabilities, the Mortgagee must:
obtain information that the Borrower is working with the servicing Mortgagee to appropriately address their mortgage obligation; and
apply any property insurance proceeds to the Mortgage of the damaged house.
Late or Missed Mortgage Payments On the Previous Mortgage
For typical FHA home loans, late or missed mortgage payments in the 12 months leading up to the new mortgage application can be extremely problematic.
However, FHA 203(h) mortgages recognize the unusual circumstances of this type of mortgage application and certain exceptions can be made for late/missed payments that would otherwise hinder a typical mortgage.
From HUD 4000.1:
"The Mortgagee may disregard any late payments on a previous obligation on a Property that was destroyed or damaged in the disaster where the late payments were a result of the disaster and the Borrower was not three or more months delinquent on their Mortgage at the time of the disaster."
This section of the FHA home loan rules also mentions that the lender is permitted to approve the 203(h) loan in cases where the original loan was delinquent by three or more months if the lender determines there are qualifying extenuating circumstances.
In all of these rules, lender standards and other non-FHA requirements may apply.
------------------------------
RELATED VIDEOS:
Understand the Reasons for Private Mortgage Insurance
Carefully Read Your Closing Disclosure
Buying a Home With a Co-Borrower
SEE YOUR CREDIT SCORES From All 3 Bureaus
Do you know what's on your credit report?
Learn what your score means.