FHA Loan Options to Build or Buy
June 6, 2018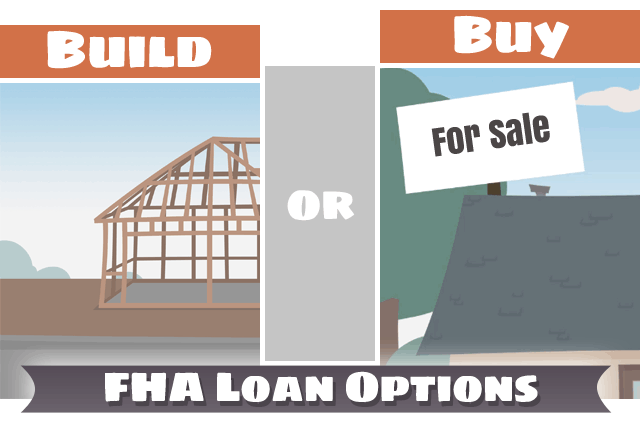 How many FHA loan options to build or buy are out there for those who need a new home? The number and type of options may surprise you. FHA home loans can be used to buy condo units, mobile/manufactured homes, existing construction properties and also new construction.
FHA Home Loans for Existing Construction 1-4 Unit Houses
FHA home loans are available for 1-4 unit existing construction homes in a variety of ways. You can purchase with an FHA 203(b) mortgage (the "typical" FHA forward mortgage loan to buy a house), but you can also buy one with an FHA 203(k) rehab loan for fixer-uppers.
Fixer-upper loans will require the borrower to use escrow, and generally do not permit the borrower to get cash back on the loan except for legitimate refunds of money paid up front and later financed into the loan.
Borrowers can also refinance a non-FHA mortgage into an FHA home loan with potentially better interest rates (your credit qualifications will help determine this), and options such as added funds for energy-saving improvements as part of an FHA Energy Efficient Mortgage.
FHA Home Loans for Mobile and Manufactured Homes
Participating lenders who offer FHA guaranteed mortgages may choose to offer FHA loans to purchase mobile homes, modular homes, or manufactured housing.
Not all FHA lenders choose to do this, but for those who do the borrower has another option to consider. Your housing market, overall demand for this type of loan product, and other factors may play a role in whether such loans are available in your location.
FHA One-Time Close Construction Loans for Single Family Residences
FHA loan options include One-Time Close construction loans, also known as construction-to-permanent mortgages. These loans can be more complex that existing construction mortgages, but well worth the effort for those who want just the right kind of home design, size, and location.
One-Time Close loans are available as FHA mortgages, but also via the VA home loan benefit program and even as a USDA loan.
A VA One-Time Close construction loan may feature added benefits for qualifying service members such as zero down payment options, streamline refinancing for later in the lifetime of the loan, and more.
As your participating lender about One-Time Close construction loan options including VA, FHA, and USDA versions of the program. You'll be pleased at the range of options open including the potential to buy land to build on as well as funding the construction itself, depending on the transaction and other factors.
Learn More About FHA One-Time Close Construction Loans
We have done extensive research on FHA One-Time Close mortgages and spoke directly to the licensed lenders for most states. These are qualified mortgage loan officers who work for lenders that know the product well.
Each company has supplied us the guidelines for their product. If you are interested in being contacted by one licensed lender in your area, please respond to the below questions to save time. All information is treated confidentially.
Your response to
[email protected]
authorizes FHA.com to share your personal information with a licensed mortgage lender in your area to contact you.
Please note that the FHA One-Time Close Construction Program only allows for single family dwellings (1 unit) – and NOT for multifamily units (no duplexes, triplexes or fourplexes).
1. Send your first and last name, e-mail address, and contact telephone number.
2. Tell us the city and state of the proposed property.
3. Tell us your credit score and/or the Co-borrower's credit score, if known. 620 is the minimum qualifying credit score for this product.
4. Are you or your spouse (Co-borrower) eligible veterans?
5. If either of you are eligible veteran's, the down payment is $0 up to the maximum VA lending limit for your county. If not, the FHA down payment is 3.5% up to the
maximum FHA lending limit for your county.
------------------------------
RELATED VIDEOS:
Understand the Reasons for Private Mortgage Insurance
Carefully Read Your Closing Disclosure
Buying a Home With a Co-Borrower
SEE YOUR CREDIT SCORES From All 3 Bureaus
Do you know what's on your credit report?
Learn what your score means.