Is a Builder's Permit Needed for a One-Time Close Construction Loan?
April 6, 2019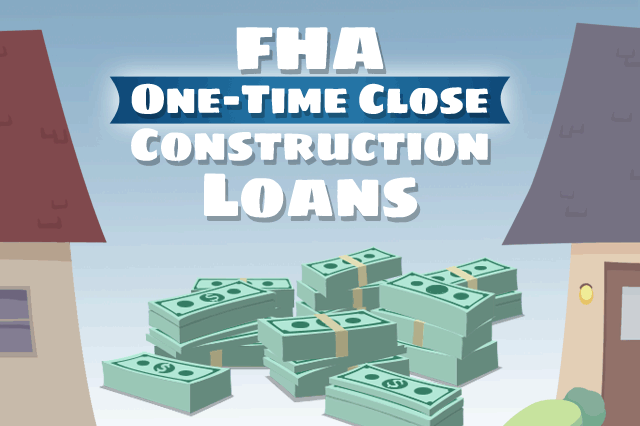 The FHA One-Time Close construction loan allows qualified borrowers to apply for a single FHA mortgage to cover both the construction phase of the building project and the mortgage itself, which is unlike other types of construction loans which require two closing dates (one for the construction loan and one for the mortgage itself).
One of the main issues with construction loans that feature two closing dates is that there is no guarantee that the borrower will qualify for the second loan the same as the first. Borrowers who do not use FHA One-Time Close loans must be extremely careful with credit and related financial issues between the first loan and the second.
FHA One-Time Close construction loans address that problem nicely with only one application, only one closing date, disbursements and payouts for labor and materials as needed via escrow, and important controls for how and when those disbursements are to be made.
But there is an issue for some borrowers that can be just as critical for One-Time Close loans.
In certain housing markets-California, for example, construction loans cannot be properly funded without the building permit in hand at application time. That sounds like a no-brainer in many housing markets. Why wouldn't you apply for an FHA mortgage loan to build a home without having the construction permits approved first?
The answer? Some housing markets process those permits MUCH faster than others. In California, it may take as long as a year and a half to get a construction permit approved.
The loan cannot go forward without the permits, and if loans are approved while waiting for permit approval, the associated interest rate issues, loan fees, and other cost factors become unrealistic.
The FHA interest rate lock-in period may vary depending on the lender, but in housing markets where building permit processing times take longer than the lender is willing to commit to an interest rate lock, it's easy to see where the potential issues lie when it comes to getting the loan without the building permit.
Hence, for some FHA One-Time Close construction loan in markets such as California, the borrower may be required to have the permit first-a requirement based on the lender's standards. Building permit approval times, FHA One-Time Close loan approval procedures, and FICO score requirements will vary depending on the market, the lender, and other variables.
But there is a timeline you can follow in markets like these that can help you know what to expect from your FHA One-Time Close construction loan process.
Step One:
Avoid spending any money on your FHA One-Time Close loan before talking to a lender. It may be tempting to hire an architect or invest money in other areas first, but don't waste your time and money doing so without discussing the loan with your lender first.
Step Two:
ontact a participating lender to discuss your needs including the previously mentioned budget, anticipated timeline for loan application and approval, etc.
Step Three:
Set a budget for the construction project with the guidance of your loan officer. From there, you will work closely with the lender to determine what else is required in the planning and application stages of your One-Time Close Construction Loan. Don't forget that One-Time Close loans may, depending on the lender, require higher FICO scores, may be limited to certain property types and sizes, etc. Lender standards, state law, and other factors may affect transactions like these.
FHA, VA, and USDA: One-Time Close Loans
Learn More About FHA One-Time Close Construction Loans
We have done extensive research on FHA One-Time Close mortgages and spoke directly to the licensed lenders for most states. These are qualified mortgage loan officers who work for lenders that know the product well.
Each company has supplied us the guidelines for their product. If you are interested in being contacted by one licensed lender in your area, please respond to the below questions to save time. All information is treated confidentially.
Your response to
[email protected]
authorizes FHA.com to share your personal information with a licensed mortgage lender in your area to contact you.
Please note that the FHA One-Time Close Construction Program only allows for single family dwellings (1 unit) – and NOT for multifamily units (no duplexes, triplexes or fourplexes).
1. Send your first and last name, e-mail address, and contact telephone number.
2. Tell us the city and state of the proposed property.
3. Tell us your credit score and/or the Co-borrower's credit score, if known. 620 is the minimum qualifying credit score for this product.
4. Are you or your spouse (Co-borrower) eligible veterans?
5. If either of you are eligible veteran's, the down payment is $0 up to the maximum VA lending limit for your county. If not, the FHA down payment is 3.5% up to the
maximum FHA lending limit for your county.
SEE YOUR CREDIT SCORES From All 3 Bureaus
Do you know what's on your credit report?
Learn what your score means.