FHA Refinance Loan Questions and Answers
July 17, 2019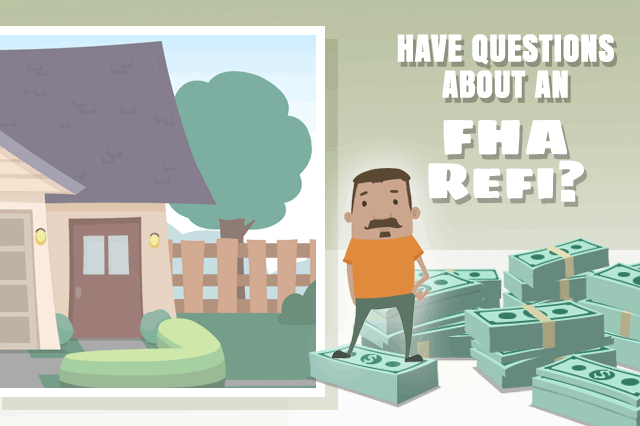 Borrowers looking into their FHA refinance loan options aren't always sure where to begin; the right kind of refinance loan for you may not be the right refinance for someone else. It all depends on why you want to refinance and how you need to apply the loan funds.
Will I Be Penalized for Refinancing My Mortgage?
FHA loan rules forbid penalties for early payoff of an FHA mortgage note (for both refinancing and for paying the loan off in full without refinancing), but if you need to refinance a non-FHA mortgage you will need to check the terms and conditions of your mortgage contract to see what may be required or permitted.
Can I Refinance a Non-FHA Mortgage Into an FHA Loan?
Yes. Borrowers do not need to have an existing FHA mortgage in order to refinance. There are some FHA refinance loan options that do depend on you having an existing FHA mortgage, but there are plenty of refinance loan choices for non-FHA mortgages.
Remember that not all participating FHA lenders will offer all FHA loan options. Some lenders may not choose to process refinance loans for manufactured homes, while other lenders may be happy to do so. Check with your loan officer to see what's available at that financial institution.
Do I Have to Refinance My Loan With My Current Lender?
No. If you want to refinance into an FHA mortgage, you just need to find a participating lender willing to work with you. You are not required to use the original lender to refinance with an FHA loan.
Are the Same FHA Energy Efficient Mortgage Options Available for FHA Refinance Loans?
Yes. If you are refinancing an FHA or non-FHA mortgage, you can talk to your loan officer about adding additional funds to the loan for approved energy-saving upgrades or improvements. This program, known as the FHA Energy Efficient Mortgage, is not the same as an FHA rehab loan, but can be used in conjunction with an FHA rehab loan.
Can I Refinance With an FHA 203(k) Rehab Loan?
Yes, depending on circumstances. The nature of your rehab work will be an important factor in approving your rehab loan and what kind of rehab loan is appropriate for your needs (limited or standard). FHA 203(k) rehab loans may require a new appraisal and credit check; lender standards and state law may also apply.
Can I Get Cash Out on an FHA Refinance Loan?
Borrowers may only take cash out on an FHA refinance loan when the loan is specifically approved for that purpose. FHA cash-out refinancing is possible for both existing FHA and non-FHA mortgages alike.
The amount of cash due back to the borrower at closing time will depend on many variables including loan fees and other expenses; discuss this with your loan officer to learn what will be possible. Cash-out refinance loans require both a new appraisal and a new credit check.
------------------------------
RELATED VIDEOS:
Sometimes It Pays to Refinance
Don't Forget Your Closing Checklist
Monthly Payments Establish Good Credit
SEE YOUR CREDIT SCORES From All 3 Bureaus
Do you know what's on your credit report?
Learn what your score means.