Similarities and Differences: FHA Purchase and Refinance Loans
April 14, 2023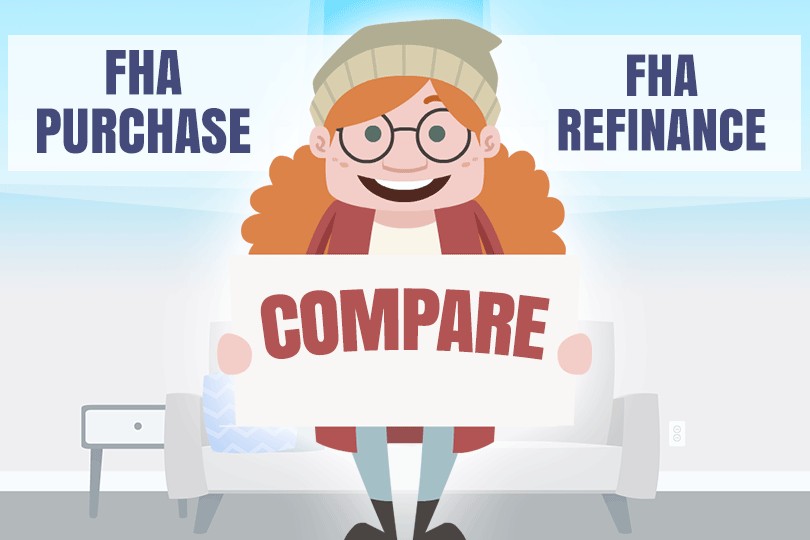 If you have never
purchased a home
before, FHA loan or not, you may wonder how similar the refinance process is compared to the
purchase loan process
.
FHA home loans can be used to buy or refinance a property, but what some
first-time homebuyers
might not realize? You don't need to buy a home with an FHA loan to refinance it with one.
That may seem like obvious advice until you remember that some people come into residential real estate without having purchased it via inheritance, a gift from a family member, etc.
Becoming a homeowner without purchasing may not be as commonplace as buying one; in such cases, you should know FHA refinance loan options exist even on a property with no existing mortgage.
Similarities Between FHA Purchase Loans and FHA Refinance Loans
The biggest similarity is the
credit qualification requirements
.
FHA Cash-Out Refinance
loans, for example, require you to credit qualify with
FICO scores
that meet FHA and lender guidelines.
However, an FHA Streamline Refinance may be processed without a credit check since the goal is not to give cash back to the borrower but to provide a tangible benefit, such as a lower interest rate.
Naturally, when mortgage rates are higher than your original loan, you won't want to Streamline Refinance. But when circumstances are right, and you can refinance into a lower interest rate? An FHA Streamline Refi may be a great choice.
Both FHA Purchase Loans and FHA Refinance Loans feature no penalty for early payoff of the loan. Both FHA purchase loans and FHA Cash-Out Refinance loans require an appraisal.
Differences Between FHA Purchase and Refinance Loans
One of the biggest differences between purchasing and refinancing, in general, is that FHA purchase loans require a down payment, whereas an FHA Cash-Out Refinance does not.
That may seem like an obvious distinction, but new borrowers should also consider the fact that there are costs associated with a refinance loan even without a down payment--costs to be saved up for unless you choose to finance them where permitted.
In other words, the refinance loan may not have the same large up-front cost, but you WILL have costs for any loan. It is usually best to pay those costs upfront rather than financing them, but much will depend on your financial needs and goals.
Another difference is the cash-back option. FHA Cash-Out Refinancing allows cash back to the borrower after the original mortgage and closing costs are paid for; FHA purchase loans do not allow cash back to the borrower except in the form of refunds for costs paid upfront but later financed into the loan.
------------------------------
RELATED VIDEOS:
Learn How to Meet FHA Requirements
Understanding APR
Your Proof of Ownership Is the Property Title
Do you know what's on your credit report?
Learn what your score means.