FHA 203(k) Rehabilitation Loan vs. Home Equity Line of Credit
November 2, 2022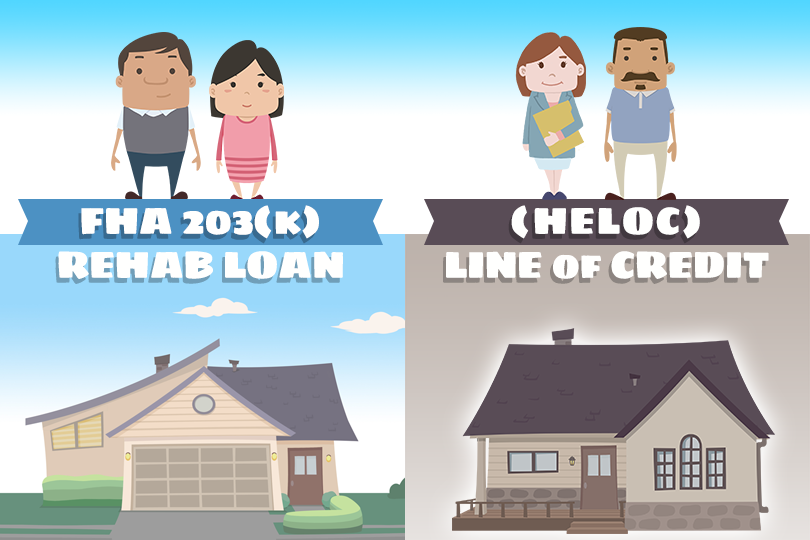 Should you apply for an
FHA 203(k) Rehabilitation Loan
to renovate your existing home or consider using a home equity line of credit instead? It's true that both types of lending can be used to renovate a home or even to buy a fixer-upper and renovate it. But which choice is right?
A lot depends on your needs. There is a limited FHA 203(k) Rehabilitation Loan that can be used to do work that does not require major structural alterations. Under this program borrowers have been able to finance up to $35,000 to repair, upgrade, and modernize their homes.
Then there is the larger FHA 203(k) Rehab Loan option which has a minimum loan amount of $5,000 but as the HUD official site states, the total value of the property must still fall within the FHA mortgage limit for your area.
A
home equity line of credit
or HELOC would in typical cases likely provide you with an amount of cash similar to a Limited FHA 203(k) rehab loan.
Since a HELOC allows you to borrow against the equity in your home, how long you have been paying on the mortgage and the size of your down payment may determine in part how much you can borrow.
But if you need a larger amount--say $100,000 or more--would the equity in your home be enough to get a HELOC with that amount? And would you WANT to? Some don't realize at first that HELOCS often come with adjustable rates.
And your repayment plan might be 20 years as opposed to an FHA 203(k) loan with its 30-year option.
Borrowers who need to do minor basic repairs or renovations might be tempted to use a HELOC to do it, especially if the project is only a few thousand dollars. But if you need much more work done on your home it may make sense to consider an FHA 203(k) Rehab loan instead. These loans are offered as both purchase loans and refinances.
FHA loans are typically offered in both fixed-rate and adjustable-rate mortgages, but the larger the costs of your renovations, the more you might want to consider a fixed-rate loan.
Some use an
adjustable rate mortgage
to buy existing construction, with a plan in mind that could include refinancing the loan once the lower introductory period interest rate has expired.
And that is a plan that makes sense, unless you're a borrower who is using the Rehab loan to refinance an existing loan--do you really want to refinance a third time if you choose an adjustable rate mortgage to renovate your home? And then there's the question of whether your lender will even offer you an FHA 203(k) as an adjustable rate mortgage.
HELOCs are good for some purposes, but if you need a large amount of money to do serious work on your home, a rehabilitation loan may be the best option for the job. Compare these two loan options side-by-side from multiple lenders for best results.
------------------------------
Learn About the Path to Homeownership
Take the guesswork out of buying and owning a home. Once you know where you want to go, we'll get you there in 9 steps.
Step 1:
How Much Can You Afford?
Step 2:
Know Your Homebuyer Rights
Step 3:
Basic Mortgage Terminology
Step 4:
Shopping for a Mortgage
Step 5:
Shopping for Your Home
Step 6:
Making an Offer to the Seller
Step 7:
Getting a Home Inspection
Step 8:
Homeowner's Insurance
Step 9:
What to Expect at Closing
Do you know what's on your credit report?
Learn what your score means.