Which Mortgage Is Better? FHA or Conventional?
October 23, 2022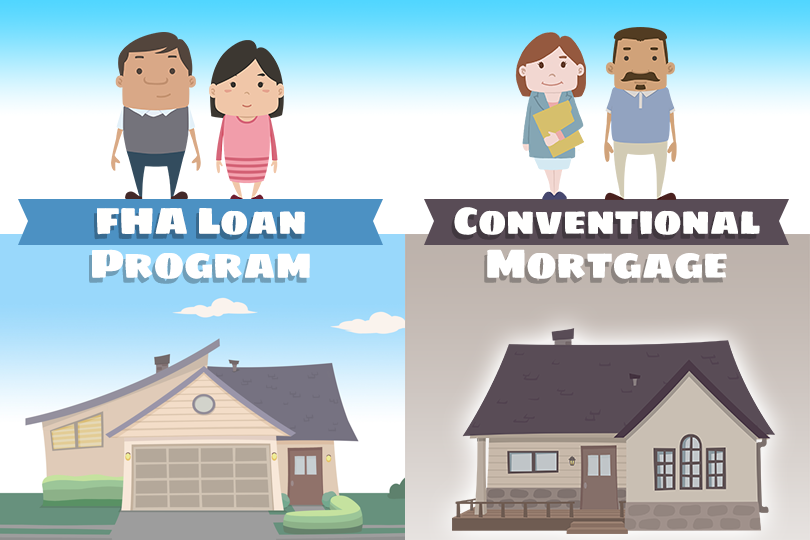 What makes government-backed home loans different from conventional loans and why should you choose an FHA mortgage over a conventional one? For many people, it's not so much about "conventional versus FHA" but more about whether the loan offers the right type of terms and conditions for the borrower.
Your loan should reflect your financial needs and goals. Do you want to make a larger
down payment
on a home loan that costs less over time?
A
conventional loan
might be your option in that case. But if your priority is a loan that puts less financial stress on you up front, an FHA mortgage could be the right move. In addition to the low down payment, there may be options for
down payment assistance
from a local or state agency, which could further reduce costs where those services are offered.
For example, FHA purchase loans have a
minimum down payment requirement of 3.5%
. Some find conventional loan interest rates offered at 5% down with a 20% down payment requirement for those who want to avoid mortgage insurance.
The borrower who wants to minimize
up front costs
will naturally choose the loan with the more competitive terms.
But down payments aren't the only issue to consider. How much will your conventional loan cost you up front compared to the FHA mortgage? It is smart to compare both up front costs and future expenses. For example, what if you want to refinance your house down the road?
Does the conventional lender charge a fee for early payoff of the loan? You want to ask that question up front and determine how much you will be charged for the privilege of paying off your loan early, if there is a fee.
Then compare those terms to an FHA mortgage, which does not permit the lender to charge a fee for early payoff of the loan to refinance, or simply to pay down the mortgage ahead of schedule.
Both conventional mortgages and FHA loans have loan limits. In both cases you may be able to apply for a Jumbo loan that exceeds those limits. But with higher loan limits in both 2021 and 2022, some borrowers didn't need to go that route. Do you need to know what the FHA loan limits are?
Here is a quick rundown on some other ways FHA mortgages and conventional loans compare:
FHA loans are backed by the Federal Housing Administration. These loans are offered by lenders who are approved by the FHA.
Conventional loans do not have a government guarantee.
FHA loans may be easier to qualify for than conventional loans.
Conventional loans can be more affordable, but harder to qualify for.
FHA loans can be refinanced into a new FHA loan without an FHA-required credit check or appraisal.
Conventional loans require a debt-to-income ratio no higher than 50% in some cases. FHA mortgages require a debt ratio of 45% or lower in typical cases, though FICO scores may affect how high your debt ratio can be for loan approval.
FHA loans are for owner-occupiers, but it's possible to buy a home as large as four units and rent out the unused living units you're not personally living in.
Conventional loans are permitted for investment properties, but the terms and conditions may be different than for purchasing a residence.
------------------------------
Learn About the Path to Homeownership
Take the guesswork out of buying and owning a home. Once you know where you want to go, we'll get you there in 9 steps.
Step 1:
How Much Can You Afford?
Step 2:
Know Your Homebuyer Rights
Step 3:
Basic Mortgage Terminology
Step 4:
Shopping for a Mortgage
Step 5:
Shopping for Your Home
Step 6:
Making an Offer to the Seller
Step 7:
Getting a Home Inspection
Step 8:
Homeowner's Insurance
Step 9:
What to Expect at Closing
Do you know what's on your credit report?
Learn what your score means.