Home Loan Choices: Conventional or FHA?
September 27, 2022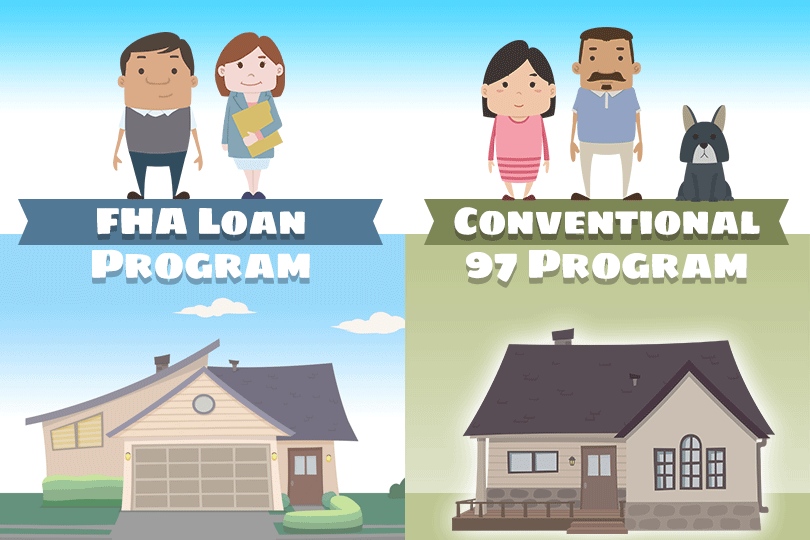 Should you choose a conventional mortgage or an FHA loan? Some borrowers struggle with this choice, but at a time of rising interest rates and home ownership costs, the lower
down payment
FHA loan option is one worth considering.
FHA loans are typically easier to qualify for than
conventional loans
, but conventional loans may be cheaper in the long run. But for those who need the added credit score flexibility, an FHA loan is an option worth considering.
Some of the common objections to FHA loans are less of a problem in times when interest rates are rising. For example, borrowers who are keen to save money up front on the mortgage may consider an FHA loan due to the lower down payment requirements for those who qualify by meeting the minimum
FHA FICO score requirements
.
Lender standards may also apply but to qualify in the eyes of the FHA you need a FICO score of 580 or better for the lowest down payment of 3.5%.
The objection to going FHA at this stage for some? The fact that FHA loans require mortgage insurance for either 11 years or the lifetime of the loan depending on the choices you make about the loan including the loan term which is typically 15 or 30 years.
Conventional loans allow you to buy your way out of mortgage insurance by making a higher down payment. Sounds ideal, right? Except the whole reason some look at FHA mortgages in the first place is to reduce the up front costs of the loan. To get out of mortgage insurance on a conventional mortgage you will typically pay 20% down.
That's not helpful for borrowers who worry about the amount of the down payment. While it is true that you could apply for down payment assistance for your loan, you may find that it is not sufficient to fully cover a 20% down payment. You would be required to come up with the remainder of the down payment.
Another plus when it comes to having an FHA mortgage? You cannot be compelled to complete the sale or even forfeit earnest money with an FHA loan if the house appraised lower than the asking price.
Your earnest money must be returned to you if you choose to walk away from a sale where the seller asks more than the appraised value. Could you renegotiate the sale or buy the house anyway? Yes, but you'll be expected to pay the difference between the appraised value and the asking price in cash.
FHA loans have other advantages. What happens when you want to refinance your home? If you have an FHA loan there is no penalty for early payoff of the loan including refinancing it. A conventional loan may or may not feature an early payoff penalty.
These are issues that aren't important to some buyers...until they are. What we mean by this is that when you are buying a home, certain issues tend to surface later in the process or seem unimportant to the matter at hand. At first. When those issues surface later on it becomes apparent how important an issue (like early payoff penalties) can be...knowing some of these in advance and anticipating them can be a big help on your home loan journey.
------------------------------
RELATED VIDEOS:
There's a Difference Between APR and Interest Rates
Choose Your Mortgage Lender Carefully
Getting Started With Your FHA Loan Application
Do you know what's on your credit report?
Learn what your score means.