Reasons to Choose an FHA Mortgage Over Other Government-Backed Loans
June 2, 2022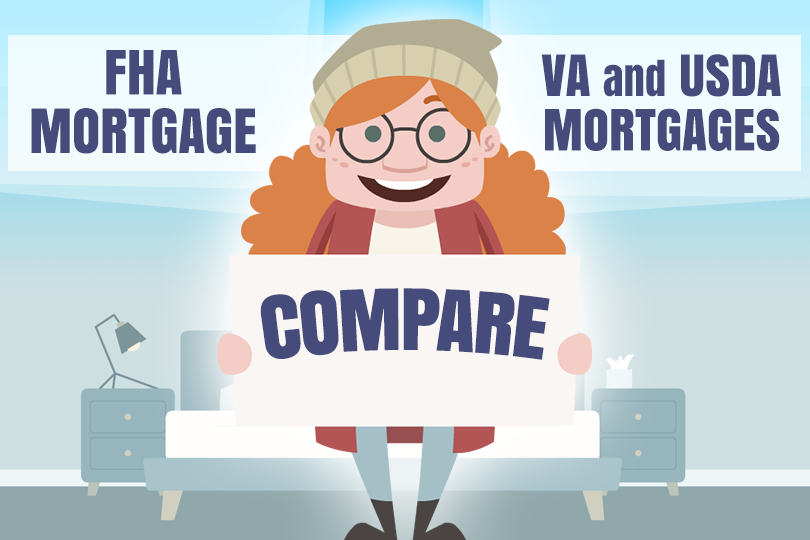 There are many mortgages to choose from. There are conventional loans, plus government-backed home loan programs such as VA mortgages, and even USDA home loans. All options to consider. So why choose an FHA mortgage instead?
In some cases, the answer is as easy as the numbers. Does the FHA 3.5% down payment minimum appeal to you? It's a good choice for those who may need to save more upfront on the mortgage. And thanks to the possibility of local down payment assistance programs, an FHA borrower could save even more out of pocket at closing time.
But FHA mortgages aren't just for those who want a lower down payment. Some are interested in certain options that come with FHA loans such as the ability to be refinanced later with an FHA Streamline Refinance Loan. These refi options typically must result in a benefit to the borrower such as a lower mortgage rate. And yes, lower monthly payments may also be possible.
VA Loans vs. FHA Mortgages
When you compare the FHA loan program to the VA loan program one of the first things you'll notice is who can apply; FHA loans are for any financially qualified borrower (first-time homebuyer or not) while FHA mortgages have a more restricted pool of borrowers who are allowed to apply for a VA mortgage.
Who are these borrowers? Those with qualifying uniformed service can apply, after having served a minimum time, for the VA mortgage benefit which features a no-money-down option and no private mortgage insurance.
FHA loans do not include an option for zero down, and while they do not require private mortgage insurance you will pay a mortgage insurance premium as part of your monthly mortgage payments.
There is an important difference in the VA loan program compared to FHA mortgages -- the percentage of seller concessions you can get with an FHA loan is higher than for VA mortgages.
Sellers are permitted to contribute up to six percent of the closing costs on an FHA loan. For VA mortgages the VA loan official site says the agency requires a seller to agree to pay no more than 4% of the total home loan in seller's concessions."
FHA Loans vs. USDA Mortgages
USDA mortgages are not approved for the general public but rather for low-to-moderate-income applicants who meet applicable household income restrictions and other need-based qualifying requirements. This makes them different from FHA home loans which are approved for anyone who qualifies with income, employment, and credit scores.
USDA loans may feature zero-down options or reduced down payments depending on circumstance. Applicants who exceed the income limits won't be approved for a USDA mortgage but there may be exceptions in certain instances such as when borrowers apply to buy homes in a targeted area.
------------------------------
RELATED VIDEOS:
Do What You Can to Avoid Foreclosure
Homes Financed With FHA Loans Must Be Owner Occupied
FHA Programs for First-Time Homebuyers
SEE YOUR CREDIT SCORES From All 3 Bureaus
Do you know what's on your credit report?
Learn what your score means.