FHA Home Loan Questions and Answers: 5 Things to Know
May 10, 2022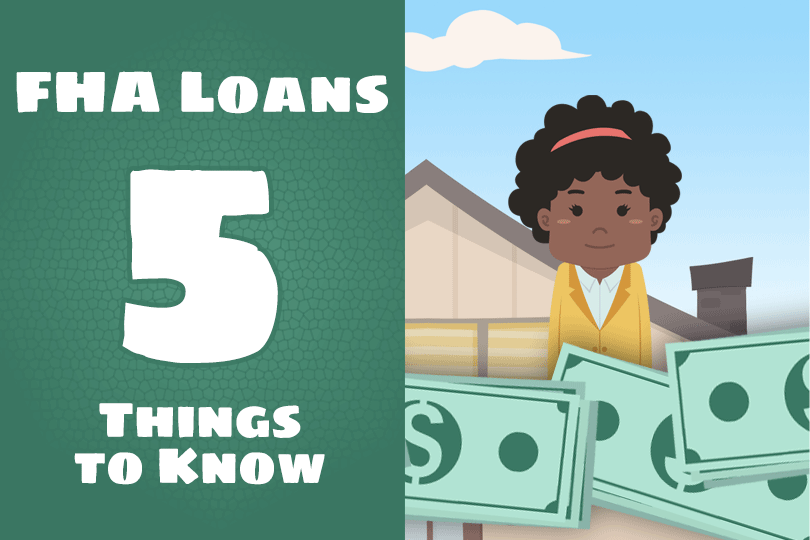 Buying a home involves many small details and first-time homebuyers often have to resort to checklists or other means to keep everything organized. What do you need to know at the start of your first home buying journey?
Many of the answers you need have to do with the basic nature of the type of loan you need, while others may involve issues related to sources of your down payment and the FHA loan mortgage insurance requirement.
1. Are FHA Home Loans for First-Time Homebuyers Only?
No. Some people confuse FHA home loan policy with that of a different government-backed mortgage program offered by the USDA which does feature need-based requirements such as household income limits and purchase price caps.
2. Is it True You Don't Need A Down Payment With an FHA Home Loan?
This is not true, but you may not have to come up with the entire down payment yourself, depending on circumstances and whether a local down payment assistance program is available.
In general, FHA home loan down payment requirements may be lower than some conventional equivalents. Some borrowers note that there are a handful of conventional mortgages that offer down payments in the three percent range similar to FHA home loans. However, the FICO score requirements for these loans may be higher than the FHA minimum requirements, and additional lender standards may apply.
3. Do FHA Loans Limit My Options For Housing Types?
FHA home loans are available for suburban homes, townhomes, duplexes, condo units, manufactured housing, and fixer-uppers. You may also choose to build a home on your own lot using an FHA One-Time Close construction loan rather than buying someone else's home. Not all participating FHA lenders offer all types of FHA loans, so you'll need to shop around to find a lender who offers the loan type you need.
4. Is it True FHA Loans Require Mortgage Insurance for the Lifetime Of The Loan?
This is not true in all cases. With an FHA mortgage, depending on the loan-to-value ratio you may be required to carry mortgage insurance for either 11 years or the lifetime of the mortgage.
5. Can the Seller of the Home Help Me With My Down Payment?
No person with a financial stake in the outcome of the loan can provide you with a down payment gift. However, your seller is permitted to contribute up to six percent of the price of the home toward closing costs.
And, as mentioned above, there may be down payment assistance programs in your area that can help. In all cases, your lender will require documentation for the source of these funds to make sure they don't come from credit card cash advances, payday loans, pink slip loans, or other non-collateralized loans.
------------------------------
RELATED VIDEOS:
What Is an FHA Loan?
Using an FHA Loan Calculator
Meeting FHA Loan Guidelines Improves Your Chances
SEE YOUR CREDIT SCORES From All 3 Bureaus
Do you know what's on your credit report?
Learn what your score means.