Can I Use Military Benefits to Qualify for an FHA Mortgage?
February 16, 2022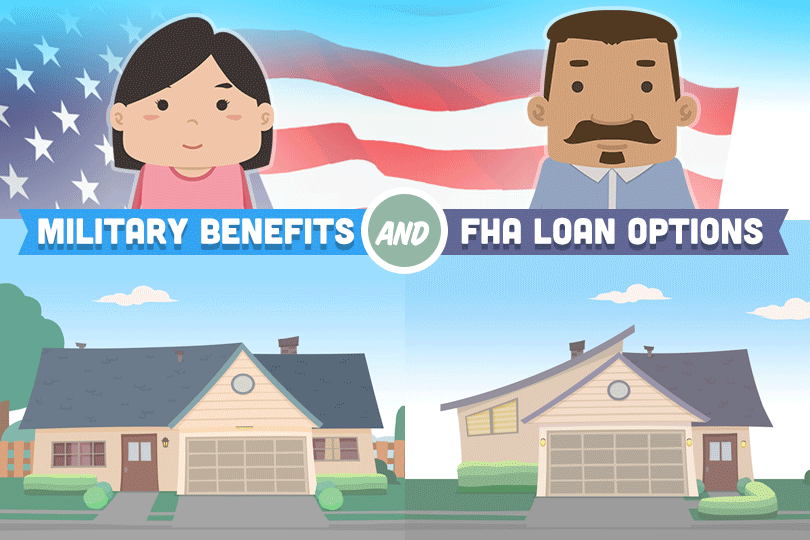 Do you have questions about your ability to get approved for an FHA mortgage when using military pay or benefits as qualifying income for the mortgage?
This question isn't as uncommon as you might think--many applicants wonder if their income will be permitted for loan approval purposes. The main concern is sometimes that the income is too new (under two years in the workplace) or that the income is too non-traditional to be considered (think income from selling on eBay or Etsy, etc.).
And then there's the VA loan question; why would military members or military veterans consider an FHA loan instead of using the VA home loan benefit with its no-money-down option?
An FHA loan might be a choice these buyers make for specific reasons. Some might want to save their VA loan for a later purchase while others might have already used their VA loan entitlement.
FHA home loan approval depends in part on the borrower's verifiable income. And when it comes to military pay the lender does not view that pay as a single sum. There is basic pay, there are military allowances that can add to that pay, plus there are VA benefits and more.
HUD 4000.1 has no ambiguity about the basic pay, benefits, and allowances allowed to be included in the debt to income ratio once verified by the lender: What do the rules say?
"Military Income refers to income received by military personnel during their period of active, Reserve, or National Guard service, including:
Base Pay
Basic Allowance for Housing
Clothing Allowances
Flight or Hazard Pay
Basic Allowance for Subsistence
Proficiency Pay
The Mortgagee may not use education benefits as Effective Income."
The last part of that quote is very important for some borrowers since you cannot use military education benefits to qualify for an FHA mortgage. That includes the housing stipend provided by some versions of the GI Bill.
GI Bill housing benefits have a definite expiration and a limited number of payments and cannot meet the FHA requirements for being likely to continue.
What kind of paperwork or documentation will the lender need from a military borrower applying for an FHA mortgage? From HUD 4000.1:
"Borrowers Military Leave and Earnings Statement (LES). The Mortgagee must verify the Expiration Term of Service date on the LES. If the Expiration Term of Service date is within the first 12 months of the Mortgage, Military Income may only be considered Effective Income if the Borrower represents their intent to continue military service."
And the FHA loan rules also state that the lender is required to use "the current amount of Military Income received to calculate Effective Income." That said, your FHA lender may want to know if you are due for any upcoming promotion that could affect the amount of income within a certain time frame from loan closing.
Always tell your loan officer know if your current income is due to change, how soon, and by how much.
One thing to remember about income verification for military pay; it is not much different than contacting a civilian employer, but you might need to help your loan officer navigate the proper channels for getting the verification done. The loan officer might not know what office to call for verification--your orderly room, Military Personnel Flight, First Sergeant, Command Sergeant Major, etc.
Be sure to let the lender know what office to contact and what to expect when they reach out for best results.
------------------------------
RELATED VIDEOS:
Home Equity Can Secure Your Second Mortgage
Consider the Advantages of Discount Points
FHA Limits are Calculated and Updated Annually
Do you know what's on your credit report?
Learn what your score means.