Buying a Home With an FHA Mortgage
January 28, 2022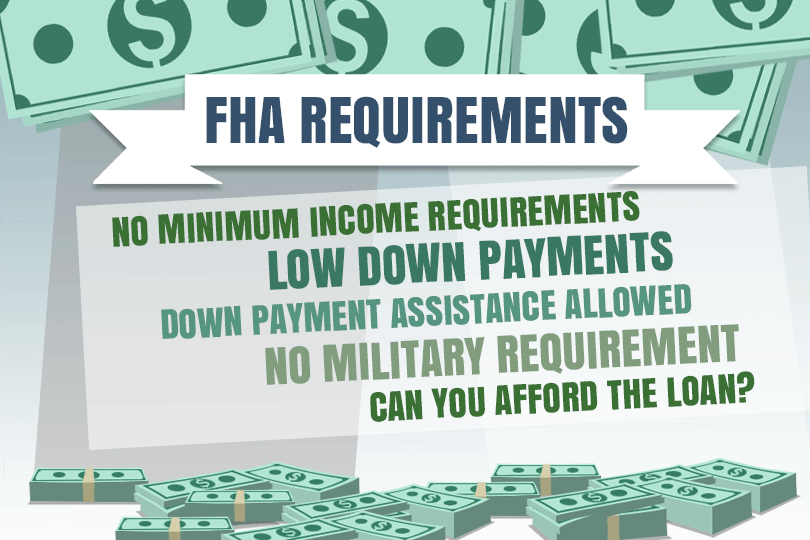 What is the difference between using an FHA mortgage to buy your dream home compared to other types such as VA or conventional mortgages? There are important differences and not all borrowers choose an FHA home loan. But many do. What's the motivation?
FHA loans are a popular option; many lenders are participating FHA lenders who may also offer other loan options--you'll want to compare the options carefully to see which program might be right for you.
FHA Loans Feature Low Down Payments
FHA mortgages require a minimum downpayment of 3.5%. Conventional mortgages do feature similar options (the "Conventional 97" is one) but the difference is that you may need a higher FICO score to qualify for conventional loans than for FHA mortgages. The credit score issue can directly affect your interest rate and your down payment requirements.
If you find yourself unable to qualify for a lower down payment with a conventional mortgage, an FHA home loan is a good option to consider.
FHA Loans Can Be Used for a Variety of Purchases
It's not that alternatives to FHA home loans can't be used to buy the same properties as you can with an FHA mortgage. Most home loan programs let you consider buying a condominium unit, a mobile home, farm residence, etc. But some alternatives to the FHA loan program feature restrictions that don't apply with an FHA purchase loan.
For example, a USDA single-family home loan features income limits (per household), and you may also be subject to purchase price restrictions. VA mortgages don't have these limitations but that home loan program is offered only to those with qualifying uniformed service.
Conventional loans may offer you the ability to buy a condo unit, farm residence, manufactured home, etc. but you'll need to compare loan options between conventional and FHA to see which FICO score requirements are more borrower-friendly for you. You may find the credit qualifying factors for the FHA loan program appealing compared to some conventional alternatives.
FHA Mortgages Offer a Unique Refinance Option
Many government-backed loan programs offer some form of Streamline Refinancing. FHA loans offer this option, which is intended to offer a tangible benefit to the borrower, often in the form of a lower monthly payment, a lower interest rate, or getting out of an adjustable-rate mortgage. But these loans can only be used for existing FHA mortgages.
FHA Loans Allow Down Payment Assistance
The FHA loan program includes the ability to use gift funds to purchase existing construction homes. This money can be used as a down payment or to cover closing costs, or both depending on the lender and other variables. These gift funds must be documented and you will need to ask your loan officer what you must do to have those funds accepted as your down payment.
------------------------------
Learn About the Path to Homeownership
Take the guesswork out of buying and owning a home. Once you know where you want to go, we'll get you there in 9 steps.
Step 1:
How Much Can You Afford?
Step 2:
Know Your Homebuyer Rights
Step 3:
Basic Mortgage Terminology
Step 4:
Shopping for a Mortgage
Step 5:
Shopping for Your Home
Step 6:
Making an Offer to the Seller
Step 7:
Getting a Home Inspection
Step 8:
Homeowner's Insurance
Step 9:
What to Expect at Closing
Do you know what's on your credit report?
Learn what your score means.