Allowable Sources for FHA Home Loan Down Payments
January 22, 2022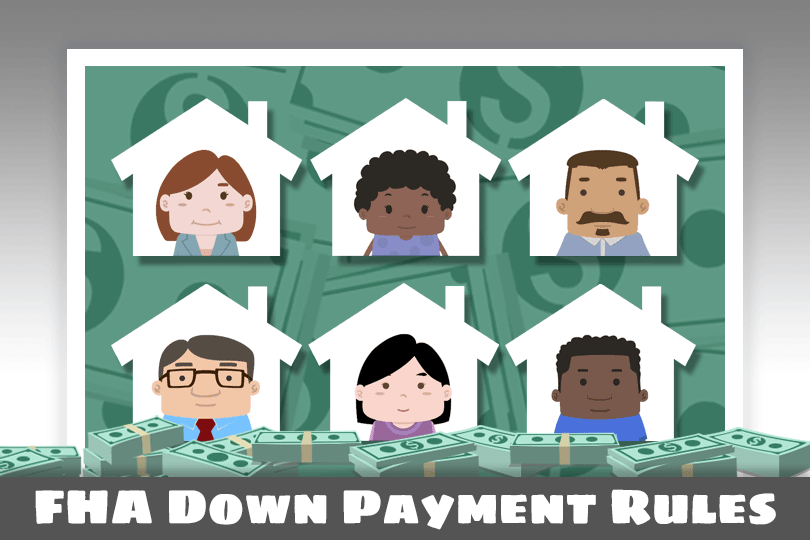 Here's a list of general down payment questions related to FHA home loans. In each case, the answer is informed by the FHA Lender's Handbook, HUD 4000.1 but all borrowers should know that additional lender requirements may also apply.
These are known as "lender overlays" and you should always ask a loan officer what that financial institutions' requirements are above and beyond the rules in HUD 4000.1.
Do I have to make a down payment on an FHA mortgage?
Yes. Down payments are almost always required, though HUD 4000.1 says that in the case of FHA Construction Loans, land equity may be permitted to be used as a source of the down payment. You'll need to check with the lender as lender requirements and state law may have a say in how this is handled, where permitted.
What's the lowest down payment I can make?
Those looking for a dollar amount here will be disappointed as the down payment requirement is based on the value of the house you want to buy. The lowest possible FHA home loan downpayment by percentage is 3.5%. Most FHA loans (to purchase) have a minimum Loan-To-Value of 96.5%.
Can the down payment come from someone else?
Yes, but subject to strict sourcing requirements which will require paperwork and documentation. Always ask the lender in advance what that financial institution's policies are, and don't forget that state law may have a say, too.
Can my seller provide down payment money?
No. But the seller is permitted to offer up to 6% of your closing costs as an incentive to buy the home.
Can I pay my down payment using cryptocurrency like Bitcoin or Ethereum?
In general, you may find that lenders do not permit using Bitcoin or other virtual currencies to render payment. That does not mean you cannot liquidate investment holdings including Bitcoin, but it's very important to ask your loan officer about the sourcing issues that may affect such an attempt. These rules will vary by lender and may be affected by future legislation. Always ask first as you may find special handling or documentation is required.
Can I borrow my dow payment?
This is a tricky one to answer as there are many ways to borrow and many state-offered or state-supported down payment assistance programs that may offer a silent second mortgage to be used for closing costs and downpayment. But whether your lender is allowed to accept such funds for your downpayment depends on a group of variables. Always ask first.
------------------------------
RELATED VIDEOS:
Annual Income Requirements for FHA Loans
Good Credit History Helps Get FHA Loans
Stay Informed About Your Mortgage Closing Costs
SEE YOUR CREDIT SCORES From All 3 Bureaus
Do you know what's on your credit report?
Learn what your score means.