FHA Loan Facts You Should Know
October 12, 2021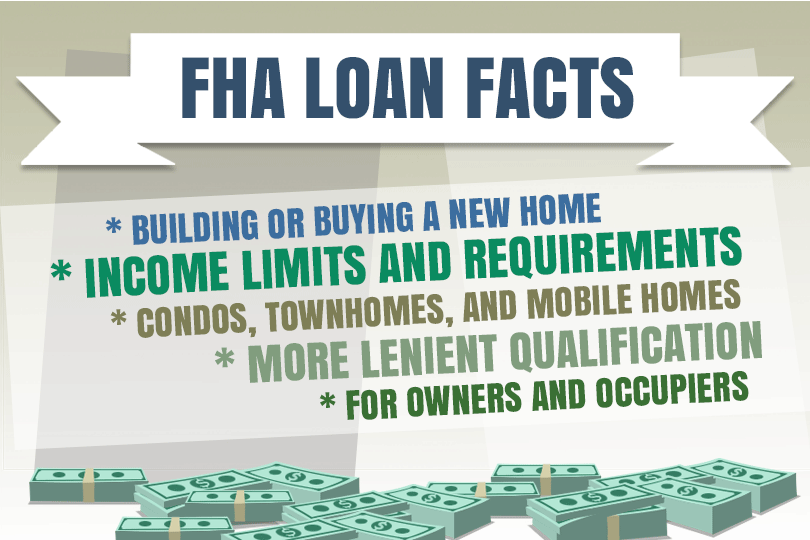 Do you have misconceptions about how FHA home loans work? Some people mistakenly count themselves out of the running for an FHA mortgage for reasons that simply are not true. Don't count an FHA mortgage out of the running if you are comparing loan products to see which one is best for you.
Some may think they earn too much money for an FHA mortgage--they confuse the terms and conditions of need-based mortgage loan programs like some offered by the USDA.
Others might think they would not qualify for an FHA mortgage because they want to build a home--these borrowers don't want to buy an existing construction house. This is not true, FHA loans include those for building a home instead of buying one.
They are called One-Time Close construction loans and they feature the same down payment requirements as any other FHA home loan.
These are just a few of the misconceptions about the FHA loan program--what do you need to know about FHA loans to make the best choice about your home loan options?
As mentioned above, unlike the USDA home loan program, FHA mortgages do NOT have income limits or restrictions on purchase price except for the usual FHA loan limits that apply per county. You do not have to meet a household income upper limit, nor do you have to meet the area median income guidelines for that region the way USDA applicants do.
An FHA mortgage lets you buy property taxable as real estate, classified as "real property."
That means you can use an FHA loan to buy a condo unit, townhome, mobile home or manufactured home. It also means you CANNOT use an FHA mortgage to buy an RV or houseboat--these cannot be fixed to a permanent foundation and cannot qualify for an FHA mortgage.
The qualifications for FHA loans can be more lenient than for some conventional mortgages. Did you know that FICO scores starting at 580 or higher qualify for maximum financing with an FHA loan according to FHA rules in HUD 4000.1?
Those same rules remind us that a participating lender may have standards above and beyond this, it makes a lot of sense to invest time in shopping around for a lender.
FHA home loans are for owner/occupiers so if you are looking for an investment property you don't intend to live in, you won't have good luck with an FHA mortgage. That said, FHA loan can be approved for a residential property with as many as four units, and you can consider being a landlord, renting out the units you aren't using yourself.
FHA loans in such cases must be for property which is primarily residential and where the residential nature of the property is not overshadowed by non-residential use.
------------------------------
RELATED VIDEOS:
FHA Loans Have Eligibility Requirements
The U.S. Government Backs Mortgages Through the FHA
Financed Properties Must Meet FHA Minimum Standards
SEE YOUR CREDIT SCORES From All 3 Bureaus
Do you know what's on your credit report?
Learn what your score means.