FHA and USDA Home Loan Comparison - Part One
July 8, 2021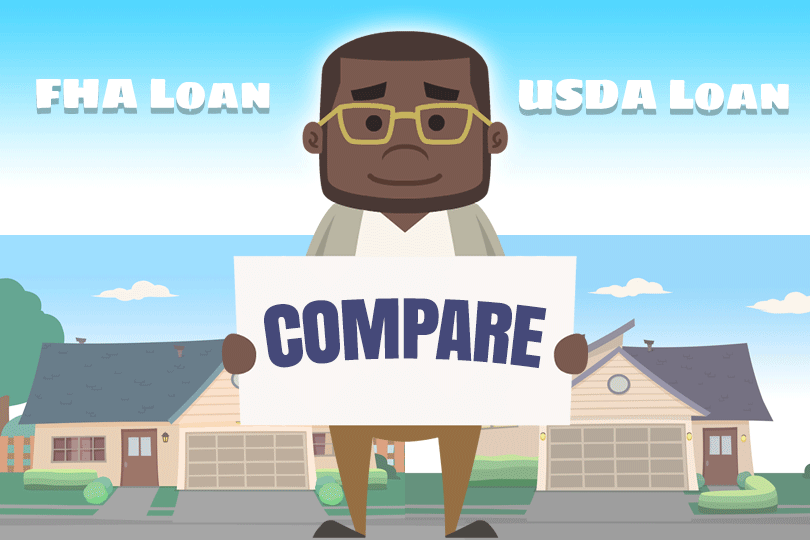 Buying a home is an important part of many people's life goals. But the process of buying a home requires planning and saving. Are you looking for a home loan to build or buy a house? Do you know how much to plan and save before you fill out the application?
If you are looking for an affordable home loan with a low down payment, you have several options depending on your circumstances, financial goals, and credit history. Yes, you have conventional mortgages as an option, but there are also USDA and FHA mortgages.
And those loans can help borrowers who need to save more money up front on the loan. Government-backed loans like USDA and FHA mortgages have lower down payment requirements and more flexible credit guidelines than certain conventional mortgages.
What makes FHA mortgages different? What makes them more appropriate for certain borrowers than USDA home loans for the same kind of home?
Both FHA and USDA mortgages have single-family home options to buy or even build a home. You can apply for a 30-year fixed rate mortgage under both programs. Both include lower interest rates and more flexible credit requirements. Both require occupancy, and both require mortgage insurance as we'll see below.
What makes FHA and USDA mortgages so different?
One important factor is who qualifies; USDA mortgages are intended specifically for low to moderate income borrowers who are looking for affordable housing. FHA borrowers sometimes come to the process thinking FHA mortgages are the same--they are not.
A USDA home loan features price limits and household income limits that will affect the borrower's overall loan eligibility. This makes a USDA loan great for some, but not so great for others who may exceed purchase price limits or income restrictions where applicable.
FHA mortgages do not feature income or price restrictions. FHA mortgages can be approved for any financially qualified borrower regardless of the upper limit of their household income. You do not have to be a financially disadvantaged borrower to apply for an FHA mortgage.
USDA loans do have a no money down option that FHA mortgages do not. The closest thing you can get to a zero-down FHA mortgage? If you apply for a construction loan, own your own land, and choose to use land equity as part of your down payment. Both FHA and USDA mortgages have construction loan options. But the FHA version does not include a calculation to see if your annual household income is too high to be approved for the loan.
USDA loans are not available for all purchases in all areas. The location of the home you buy with an USDA loan may make the difference between qualifying or not.
FHA home loans feature no such restrictions on where you may purchase the home outside the usual considerations for certain natural disaster zones, coastal barrier resource system or protected area, etc.
------------------------------
Learn About the Path to Homeownership
Take the guesswork out of buying and owning a home. Once you know where you want to go, we'll get you there in 9 steps.
Step 1:
How Much Can You Afford?
Step 2:
Know Your Homebuyer Rights
Step 3:
Basic Mortgage Terminology
Step 4:
Shopping for a Mortgage
Step 5:
Shopping for Your Home
Step 6:
Making an Offer to the Seller
Step 7:
Getting a Home Inspection
Step 8:
Homeowner's Insurance
Step 9:
What to Expect at Closing
Do you know what's on your credit report?
Learn what your score means.