FHA Loans Versus Conventional 97 Mortgages
May 23, 2021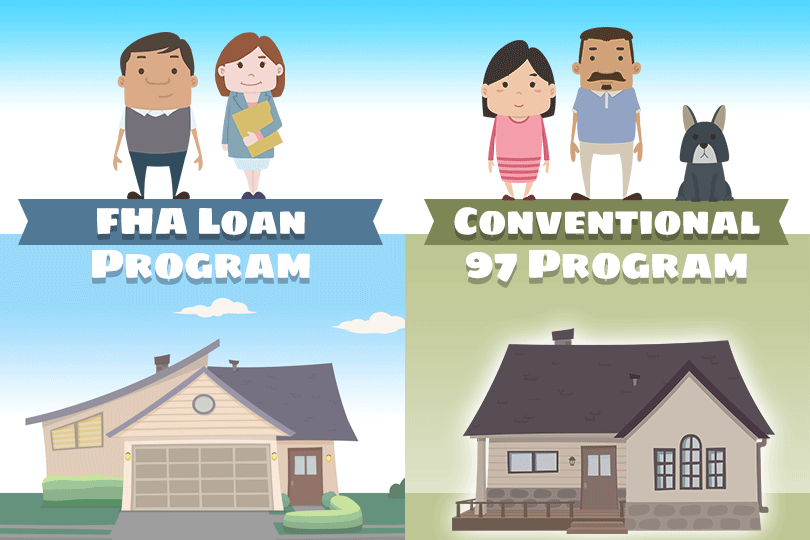 FHA home loans are government-backed mortgages, which means a lower risk for the lender because the government guarantees part of the loan.
It also means lower FICO score requirements for the borrower due to that reduced risk. One of the most attractive things about FHA home loans for some is the low 3.5% down payment requirement. For a long time, this low down payment had very little competition.
But there is a conventional home loan product called the Conventional 97 which features an even lower down payment of three percent. Is this a better option for borrowers than an FHA mortgage? Let's compare the two loans and see.
FHA Mortgages Versus Conventional 97: Similarities
FHA loans and Conventional 97 mortgages are very similar in many ways. They include the availability of a 30-year, fixed rate loan intended for owner-occupiers. For both types of loan you can purchase a single-family home loan, condo unit, planned unit development, or co-op property.
Occupancy is a requirement for both types of home loan. At least one borrower obligated on the mortgage must occupy the property within a reasonable time after closing, usually 60 days.
Both mortgages require some form of mortgage insurance, but there are differences as we will explore below.
FHA Loans Versus Conventional 97 Loans: The Big Differences
There are some major differences between FHA mortgages and Conventional 97 mortgages. One of the biggest? You may be restricted to a single-unit property with a Conventional 97 loan. FHA loans allow single-family purchases for homes with up to four living units.
With an FHA mortgage you can purchase a four-unit home, live in one of the units and rent out the others if you so choose.
FHA home loans require a mortgage insurance premium, but this is not private mortgage insurance. Conventional 97s do require private mortgage insurance.
Another difference? FHA home loans offer the 3.5% down option to those with FICO scores at 580 or higher. (Lender standards may be higher). Conventional 97 loans may require FICO scores at 620 or better.
Another big difference between Conventional 97 mortgages and FHA home loans? You may find that many Conventional 97 mortgages require the borrower to be either a first-time home buyer OR have not owned property in the three years leading up to the mortgage application.
FHA home loans DO NOT require you be a first-time buyer to qualify for a mortgage loan. It's a common misconception about FHA mortgages, but it is definitely NOT TRUE. Ask your loan officer for the most current requirements for both FHA mortgages and Conventional 97 loans and compare them for yourself. You may be surprised at the number of options you have with an FHA mortgage, up to and including the ability to have the home built from the ground up on your own lot or on land you purchase with the mortgage loan.
------------------------------
Learn About the Path to Homeownership
Take the guesswork out of buying and owning a home. Once you know where you want to go, we'll get you there in 9 steps.
Step 1:
How Much Can You Afford?
Step 2:
Know Your Homebuyer Rights
Step 3:
Basic Mortgage Terminology
Step 4:
Shopping for a Mortgage
Step 5:
Shopping for Your Home
Step 6:
Making an Offer to the Seller
Step 7:
Getting a Home Inspection
Step 8:
Homeowner's Insurance
Step 9:
What to Expect at Closing
SEE YOUR CREDIT SCORES From All 3 Bureaus
Do you know what's on your credit report?
Learn what your score means.