VA Construction Loans vs. FHA One-Time Close Loans
April 4, 2021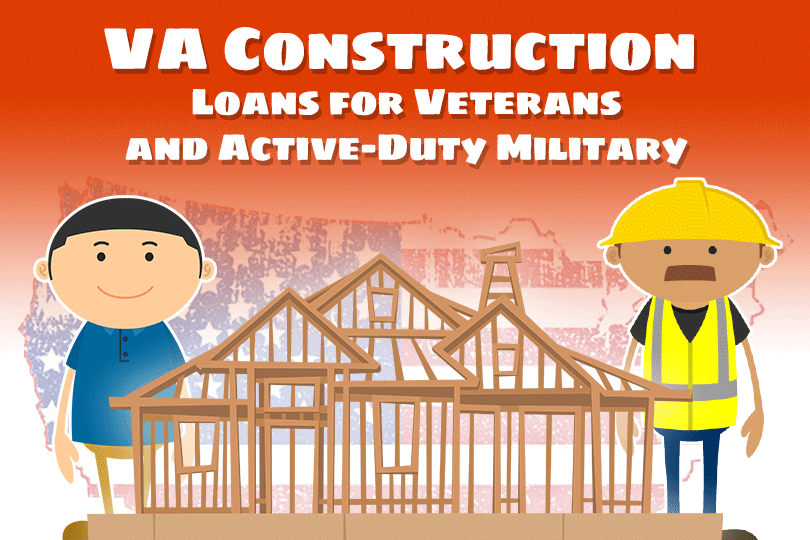 Building a home on your own lot with a One-Time Close construction mortgage (OTC) is a great option for military members, retirees, and veterans who want to construct a new home. But there are construction loans offered in both the VA and FHA loan programs. Which to choose?
VA loans are for veterans and currently serving military members with qualifying minimum time on duty. Certain surviving spouses of military members who have died as a result of military service may also qualify.
FHA loans are for any financially qualified borrower regardless of whether the applicant has owned property before. FICO score requirements for maximum financing begin at 580 and above (FHA minimums, lender requirements may also apply).
Which Loan to Choose?
So for those who are eligible for either program-- military retirees, veterans who started second careers after serving, and those still on duty as well as certain surviving spouses--which should they choose? VA or FHA?
That will depend greatly on the borrower. Some choose an FHA loan because they don't want to use their VA home loan entitlement or they don't have enough left to use after a previous transaction. VA loan entitlement can be restored but it usually requires the loan be either paid in full, refinanced, or sold.
Common Features of Both FHA and VA Programs
Both loan programs feature no penalty for early payoff of the loan, consumer protections in the form of active mortgage relief programs in times of national disaster or emergency, and both loan programs allow the borrower to get certain seller concessions on the loan to help offset closing costs. You can apply for Streamline Refinance options with either loan program which allow the lender to process the loan with no credit check or new appraisal.
VA Loan Features Compared to FHA Loan Features
FHA loans require a 3.5% minimum down payment even for construction loans. VA loans have no down payment requirement in typical cases. This alone makes the VA One-Time Close construction mortgage a very appealing option.
VA mortgages (including construction loans) have no VA required mortgage insurance where FHA construction loans will require both a monthly premium and an Up-Front Mortgage Insurance Premium or UFMIP which may be financed in its entirety or paid in full at closing time.
The lack of a mortgage insurance requirement makes many military retirees hoping to build their forever home even more convinced to build a home from the ground up using a VA construction loan.
Is There a VA Advantage?
VA home loans have no minimum FICO score requirements listed in the VA guidelines. It is up to the borrower and lender to negotiate the loan based on lender standards. This in addition to the zero down mortgage option of the VA loan makes the program hard to resist for many qualified borrowers.
FHA mortgage FICO score minimums for the lowest possible down payment are 580 or better. FHA mortgages are technically possible for those with FICO scores at between 500 and 579 but this will require 10% down and lender standards will also apply.
------------------------------
RELATED VIDEOS:
Sometimes It Pays to Refinance
Don't Forget Your Closing Checklist
Monthly Payments Establish Good Credit
SEE YOUR CREDIT SCORES From All 3 Bureaus
Do you know what's on your credit report?
Learn what your score means.