Federal Assistance for Homeowners in Texas
March 1, 2021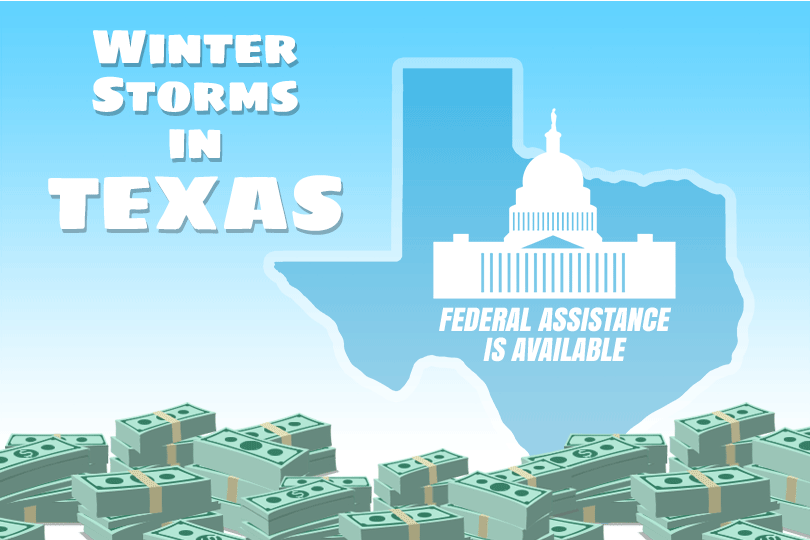 Those with FHA mortgages who own homes in the state of Texas are getting help from the federal government in the wake of deadly winter storms in the area affecting some half a million homeowners in the Lone Star State.
President Biden has declared the state of Texas as a major disaster area, which allows federal assistance for state and local recovery efforts.
Those who have FHA home loans should contact their loan servicer immediately to learn their options for foreclosure relief where applicable, plus get information about disaster recovery resources from agencies like FEMA.
When the President declares a major disaster area, it triggers several things including foreclosure moratoriums from the FHA, but those who homes damaged or destroyed by a disaster also have the option to apply for an FHA 203(h) Rehabilitation loan for disaster victims.
This kind of loan is only provided for those who are in a federal disaster area and features the following:
No down payment is required.
Closing costs and prepaid expenses must be paid by the borrower in cash or paid through premium pricing or by the seller, subject to a 6 percent limitation on seller concessions.
May be used to finance the purchase or reconstruction of a one-family home that will be the principal residence of the homeowner.
These loans can be used in conjunction with the FHA 203(k) Rehabilitation loan or 203(k) refinance loan.
In addition to contacting loan servicers and FEMA, homeowners are encouraged to contact the Small Business Administration (SBA) since in some cases homeowners may qualify for SBA assistance. The help is NOT restricted to small business owners, so be sure to explore your options at the SBA official site.
The following Texas counties are affected by the federal disaster declaration:
Angelina, Aransas, Bastrop, Bee, Bell, Bexar, Blanco, Brazoria, Brazos, Brown, Burleson, Caldwell, Calhoun, Cameron, Chambers, Collin, Comal, Comanche, Cooke, Coryell, Dallas, Denton, DeWitt, Ellis, Falls, Fort Bend, Galveston, Gillespie, Grimes, Guadalupe, Hardin, Harris, Hays, Henderson, Hidalgo, Hood, Jasper, Jefferson, Johnson, Kaufman, Kendall, Lavaca, Liberty, Madison, Matagorda, Maverick, McLennan, Montague, Montgomery, Nacogdoches, Nueces, Orange, Palo Pinto, Panola, Parker, Polk, Rockwall, Sabine, San Jacinto, San Patricio, Scurry, Shelby, Smith, Stephens, Tarrant, Travis, Tyler, Upshur, Van Zandt, Victoria, Walker, Waller, Wharton, Wichita, Williamson, Wilson, and Wise.
------------------------------
RELATED VIDEOS:
Sometimes It Pays to Refinance
Don't Forget Your Closing Checklist
Monthly Payments Establish Good Credit
SEE YOUR CREDIT SCORES From All 3 Bureaus
Do you know what's on your credit report?
Learn what your score means.