Do Bankruptcies, Foreclosures, or Short Sales Affect Home Loan Chances?
November 19, 2020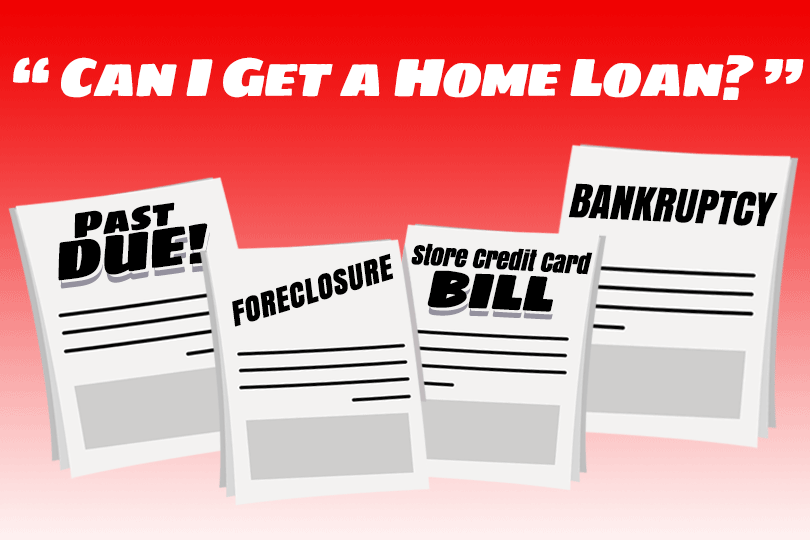 In the era of coronavirus, everyone will experience financial hardship at some point. But how you weather these problems can affect your future home loan plans and it's good to have a contingency plan in case you run into trouble paying your bills. What you do today can affect your ability to get a home loan approved this same time next year--and there are plenty who may be in a position to consider a new home loan then.
What do people do when they have past credit issues in their credit report? Late payments, missed payments, or other credit problems can always occur ahead of a new home loan application, but how you handle this issue is key.
Borrowers who make sure they have a full year or more of on-time payments on all financial obligations before applying for their mortgage loan have a much better chance at home loan approval than those who do not.
This credit repair has nothing to do with giving money to a third party to "fix" your credit. In this instance the borrower must take matters into their own hands and pay on time, every time.
This will, over time, contribute toward raising your credit score and making you a more creditworthy borrower. It takes months to establish such a payment record and can take longer for your new patterns to catch up with your credit score, but the effort is worth it and it is FREE.
The lender is required to view all credit report details that may affect your credit score including reviewing how long ago your last late or missed payment (any lates or missed) may have happened--for best results, you want 12 months or better of on-time payments on your credit record when you apply for your mortgage.
Past Negative Credit Events (Foreclosure, Bankruptcy, Etc.)
Do you have a major negative credit event in your credit history? A bankruptcy, short, sale, or foreclosure can change the timetable for any future borrower who wants to apply for a mortgage loan.
There are mandatory waiting times for those who want a mortgage following a Chapter 7 or Chapter 13 bankruptcy wait a bare minimum of one year (but more likely two at a minimum depending on circumstances and other variables) and in the case of certain types of bankruptcies, you may be required to obtain court permission to enter into new debt.
Be sure to discuss this issue with your participating lender and ask what that financial institution requires in terms of a "seasoning period" or mandatory waiting time which will be required by the lender following the discharge of the bankruptcy, or following the foreclosure or short sale before you can apply for the new mortgage.
Seasoning periods generally do not NOT begin when you FILE bankruptcy or initiate the short sale, but (for foreclosures and short sales) only after the transaction is completed and the home is no longer in your name.
Work on Your Credit in the Meantime
Are you paying closer attention to your credit report in the wake of a bankruptcy, foreclosure, or short sale? This is key to getting access to new credit like a mortgage loan. You should seriously consider credit monitoring when building new credit to prevent serious issues like identity theft, outdated information, or other problems with your credit report.
And you should know that a lender will need to scrutinize how you have dealt with any new credit during the time of your mandatory seasoning period. This will be a major factor when it's time to apply for a new mortgage loan after a bankruptcy, foreclosure, or short sale.
------------------------------
RELATED VIDEOS:
Get Your Questions Ready for Your Loan Officer
The Last Part of the Transaction Is the Mortgage Closing
Know What You Can Borrow With Prequalification
SEE YOUR CREDIT SCORES From All 3 Bureaus
Do you know what's on your credit report?
Learn what your score means.