FHA Mortgage Relief: Do You Need Cash-Out Refinancing?
November 16, 2020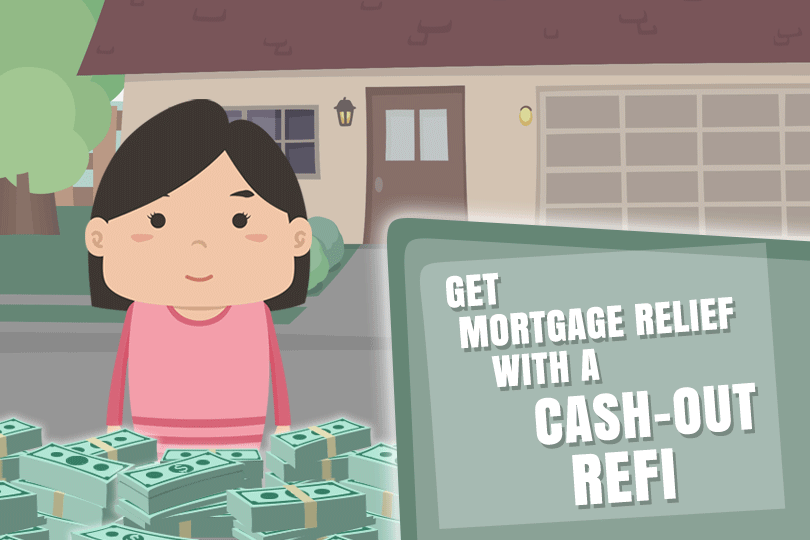 A lot of borrowers are worried about their ability to pay the mortgage during the global coronavirus emergency. Some aren't as worried about being able to pay, but see record low interest rates and wonder if they should refinance to get into a lower mortgage rate and/or a more affordable monthly payment. Should these borrowers consider a cash-out refinance loan?
The answer is actually NO. And it's NOT because these borrowers shouldn't consider refinancing--they definitely should. But the type of refinance loan you need in these circumstances is NOT a cash-out refinance. Instead, there are more effective ways to refinance your home and get the outcome you want--potentially lower payments, a lower interest rate, a way to catch up on a loan you are in danger of falling behind on.
Why should borrowers look at a different kind of refinance other than cash out when trying to get these outcomes? And what about those who want extra money to repair or customize the home?
You Need the Right Refinance Loan for the Right Purpose
A cash-out refinance loan is ideal for borrowers who have made a lot of payments on their home, have sufficient equity built up to result in a decent amount of cash back on the transaction once the loan is paid off, etc.
The FHA cash-out refinance loan is good for those who have a specific plan for the money they get back on the loan, but not such a great tool for those worried about making their current payments.
A better refinance loan for someone trying to get into a more affordable loan is an FHA Simple Refinance, or an FHA Rate-And-Term refinance. Both of those can be used to finance an existing FHA or non-FHA mortgage. Borrowers who have existing FHA loans should seriously consider the FHA Streamline Refinance mortgage option, which has no FHA-required credit check or appraisal.
Refinance Loan Options For Those Who Need to Repair or Renovate
You COULD apply for an FHA cash-out refinance loan to pay for renovations or repairs to your home, but a better option is to consider an FHA 203(k) Rehabilitation Refinance loan which allows you to refinance and pay for approved projects.
You can only use the money you get with this loan to pay for those approved projects; a cash-out refinance has no such restrictions but your loan-to-value ratio may be higher with a Rehab loan and you may have more cash available with a Rehab loan to pay for those projects and others you and your lender will review together.
Cash-Out Refinance Loans: Planning Counts
Cash Out Refinance loans are a good tool for those who have plans for their loan proceeds. Especially if those plans have a long-term benefit that cannot be undone with future spending.
What does that mean? If your plans include using loan funds to pay down credit cards or other bills you could easily run up again later, it may be best to consider a different way of paying those off. If you are using your cash-out refinance loan proceeds for other debt such as student loans or other accounts that you won't be able to run up again, that may be a far better use for those funds.
------------------------------
RELATED VIDEOS:
What Is an FHA Loan?
Using an FHA Loan Calculator
Meeting FHA Loan Guidelines Improves Your Chances
SEE YOUR CREDIT SCORES From All 3 Bureaus
Do you know what's on your credit report?
Learn what your score means.