HUD Announces Employment Verification Guidelines for COVID-19
August 6, 2020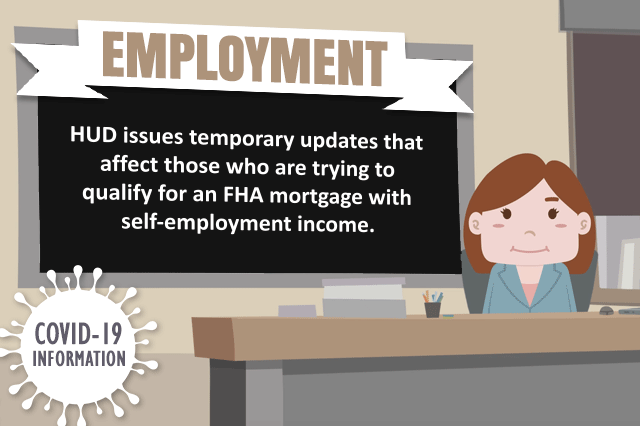 The FHA and HUD have announced an extension to certain coronavirus measures initiated to allow lenders to approve FHA home loans among other guidelines altered by a "multi subject mortgagee letter" issued by HUD in the last week of July 2020.
The mortgagee letter titled, "COVID-19 Multisubject: Updated Temporary Guidance for Verification of Self-Employment; Rental Income; 203(k) Rehabilitation Escrow Account" contains updates that affect those who are trying to qualify for an FHA mortgage with self-employment income, and other updates for those who want to purchase a home using rental income to qualify.
These measures are not permanent; FHA is temporarily updating these income requirements to include measures that direct the lender how to verify self-employment income. Temporarily (through November 30, 2020 at press time, but always subject to change depending on circumstances) lenders are required to do the following as defined by the HUD official site:
"Due to the continued impact of the COVID-19 National Emergency...the Mortgagee must verify the existence of the borrower's business within 10 calendar days prior to the date of the Note to confirm that the Borrower's business is open and operating."
The lender is also required to do at least one of the following steps:
Get evidence of current work (executed contracts or signed invoices that indicate the business is operating on the day the lender verifies self-employment).
Review current business receipts within 10 days of the note date (payment for services performed).
The lender must certify the business is actually open or that the business website is currently operational.
Not all borrowers are affected by this, but in an era where working from home is more relevant than ever, these measures likely affect more borrowers today than ever. If you are not sure how these requirements affect your FHA mortgage, One-Time Close construction loan, refinance loan, or other transaction, talk to a loan officer today.
Remember that self-employment income, commissions, and other payment options have to be paid for a minimum amount of time in order to be counted for loan approval purposes. If you aren't working with such income for at least a full year you may not a good candidate for loan approval unless your lender tells you otherwise. (Some borrowers may have compensating factors that anticipate these issues).
FHA loan rules have also been temporarily modified to accommodate alternative means to verify rental income. We will explore that topic fully in another article.
------------------------------
RELATED VIDEOS:
Sometimes It Pays to Refinance
Don't Forget Your Closing Checklist
Monthly Payments Establish Good Credit
SEE YOUR CREDIT SCORES From All 3 Bureaus
Do you know what's on your credit report?
Learn what your score means.