COVID-19 Update: Why You Need to Review Your Credit Report
June 10, 2020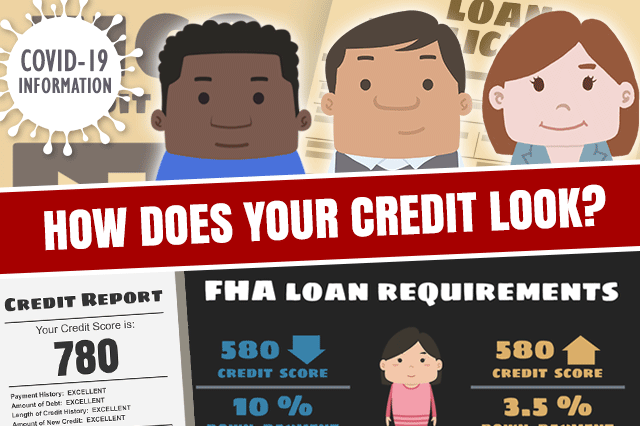 The Coronavirus outbreak has put a major strain on the United States economy. For that reason, staying up-to-date about your credit report is essential, especially if you have plans to buy a home in the near to mid-term future.
There is an elevated potential for errors, identity theft, and other problems in current circumstances; "better safe than sorry" is an excellent philosophy to apply to your personal finances going forward.
The Future of Credit?
Financial difficulties in the coming months may make credit harder to come by; borrowers who understand the importance of this will be pulling copies of their credit report for review sooner, not later. And there's been an important development among the three major credit reporting agencies that makes protecting your credit easier to do for an extended, but limited time.
Did you know that federal law requires all consumers to be provided with a free annual copy of their credit report? Your free credit reports are available via a government-sanctioned website that offers the free credit reports.
The AnnualCreditReport.com official site states, "During these times of COVID-19, accessing your credit is important. That's why Equifax, Experian, and TransUnion are now offering free weekly online reports through April 2021."
But there's an important factor to be mindful of when requesting a free credit report or even taking advantage of free credit monitoring services; you may not get the same level of quality or customer service with "free". Like all other things in life, it pays to compare your options.
"Free" Versus Subscription-Based Credit Monitoring
It is true there are free resources available for you to pull credit reports, but as the old saying goes, sometimes you get exactly what you pay for--a free credit report offer or even free credit monitoring may not include the specific help you need to stay on top of your credit scores, get timely updates and information, etc. It's best to compare options between "free" services and the kinds of help you can get by subscribing to an active credit monitoring service.
For example, some companies may offer free monitoring, but only for one credit bureau. CNBC.com reports that free credit monitoring options offered by the company called Mint were provided (at the time of the article's writing) only for a single credit reporting bureau's reports rather than all three. Free services may be helpful, but they might not be helpful...enough.
Credit Reports Versus Credit Monitoring
Consumers should know that free credit REPORTS, even weekly reports, are NOT free credit MONITORING. You are being provided the information, but you aren't getting any assistance with it.
Credit monitoring can help you prevent identity theft, erroneous information, or outdated information from staying on your report--credit monitoring is a means to track and identify the activity on your credit report. This is very helpful for those who are working hard to repair their credit and improve their credit history.
Errors, mistaken identity, old information, and identity theft problems can be addressed faster with monitoring. But if your credit report accurately shows late or missed payments, those will remain on your credit report until they naturally "fall off."
Reviewing your credit report on a regular basis, credit monitoring, and careful financial planning can help you protect your credit rating. It's better to know than to not know.
------------------------------
RELATED VIDEOS:
You're Almost There When You Get Your Loan Approval
Learn About the Mortgage Insurance Premium (MIP)
Pre-approval Starts the Mortgage Process
SEE YOUR CREDIT SCORES From All 3 Bureaus
Do you know what's on your credit report?
Learn what your score means.