First-Time Home Buyer Myths and Options
May 31, 2020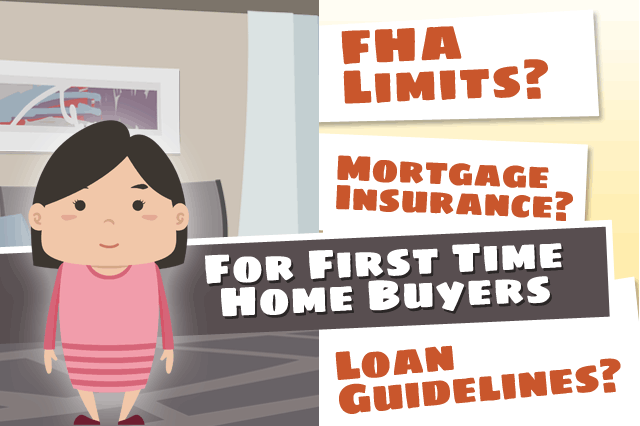 Are you a first-time home buyer? It is easy to assume your home loan options are limited to a certain type of property or a price range.
But for FHA mortgages, first-time borrowers who qualify with their income, FICO scores, and loan repayment history may be able to apply for a variety of different options. You could choose an FHA condo loan, and FHA One-Time Close construction loan, or an FHA Rehabilitation loan (the FHA 203(k)) to buy and rehab a fixer-upper.
Home Loans for First-Time Buyers, but not Exclusively
There is a myth that FHA mortgages are ONLY for first-time home buyers or that there is a first-time buyer advantage for loan approval. One reason this keeps circulating?
It may be partly due to the fact that local agencies provide first-time home buyers with down payment grants and some lenders may have programs marketed to the first-time buyer.
There are other potential complications--some may have owned property in the past, but could be considered first-time buyers again if enough time has passed since they last owned property.
Does that sound confusing? The length of time will vary depending on the program, but it's another good example of why you should not assume you do not qualify for a particular type of loan or program until you apply and are told you don't.
Flexible Home Loans
Another myth? FHA mortgages are only for low-income people or those with a demonstrated financial need. This is also not true. There are no income limits or other such restrictions. You can never "earn too much" to qualify for an FHA mortgage.
Does that mean a potential borrower's income is free of scrutiny for the loan? No. FHA mortgages are just like any other loan program. To be approved, you must earn income that is stable, reliable, and likely to continue for some time. The lender has ways to verify this and it is a requirement for loan approval.
It's never a bad idea to contact a lender, explain your specific needs and goals for a new home, and see what options may be available to you.
Don't worry about making any decisions when you talk to a loan officer about FHA home loan options. Explain to the lender that you are trying to decide which type of mortgage is the right one for you. There are different loans for condos, mobile homes, suburban homes, and other residences, a loan officer can get you moving in the right direction with the right loan type.
------------------------------
RELATED VIDEOS:
Learn How to Meet FHA Requirements
A Few Tips About Your Fixed Rate Mortgage
Your Proof of Ownership Is the Property Title
SEE YOUR CREDIT SCORES From All 3 Bureaus
Do you know what's on your credit report?
Learn what your score means.