Why Refinance Your Mortgage? Three Questions to Ask
May 7, 2020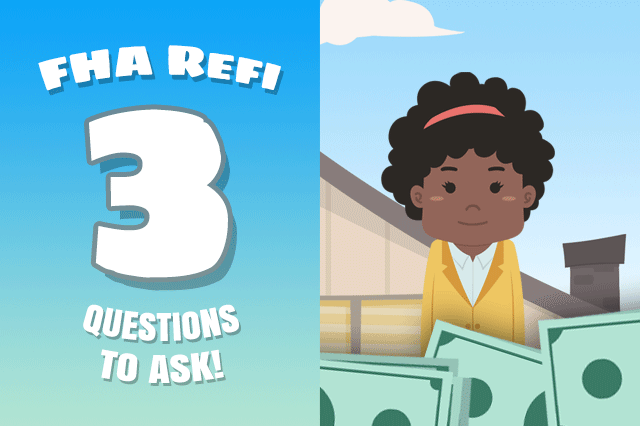 Why refinance your mortgage? There are as many motivations to refinance as there are to purchase the home in the first place; the right FHA refinance loan for you depends on what you need to do with the loan.
What Is the Purpose of Your Refinance?
The purpose of the loan will help you decide on the right refi loan. If you are after a lower monthly payment or a lower interest rate, a no-cash-out refinance loan is the best place to start your research.
Cash-out refinancing is great for those who specifically want cash back on the deal, but if you don't need cash out, a Simple Refinance may be for you.
There are also FHA-to-FHA refinance loans called FHA Streamline Refinance loans that allow you to get a lower rate, a lower payment, or other "tangible benefits" such as refinancing out of an adjustable rate loan and into a fixed-rate mortgage.
If you want to repair or remodel your home when you refinance, the FHA Rehabilitation Refinance Loan is something to ask your loan officer about.
What Are Your Plans for the Home?
The basic decision to refinance can often be informed by your goals for the house securing the mortgage. Are you planning to stay in the home long-term? That will affect the type of refinance loan you might investigate as well as the basic nature of the loan as a fixed-rate mortgage or an adjustable rate loan.
Adjustable rate loans are good for borrowers who have a strategy for how to deal with the loan once it leaves the introductory rate period and goes into the interest rate adjustment period.
Yes, you have the option under FHA loan rules to refinance as an adjustable rate mortgage. Participating lenders are not required to offer all FHA loan products, so be sure to ask about the specific refinance you are interested in to see if that lender offers it.
Are You Ready for Closing Costs?
Like purchase loans, FHA refinance loans have closing costs. It's a very good idea to ask the lender about what you should plan and save for in this area; you are permitted to finance certain closing costs but others cannot be included into the mortgage loan.
Saving for your closing costs to pay in cash at closing will help you obtain the lowest monthly payment possible with your mortgage. Financing the costs you could pay in cash (such as the Up Front Mortgage Insurance Premium) increases your monthly payment.
SEE YOUR CREDIT SCORES From All 3 Bureaus
Do you know what's on your credit report?
Learn what your score means.