Thinking of Refinancing in 2020?
November 16, 2019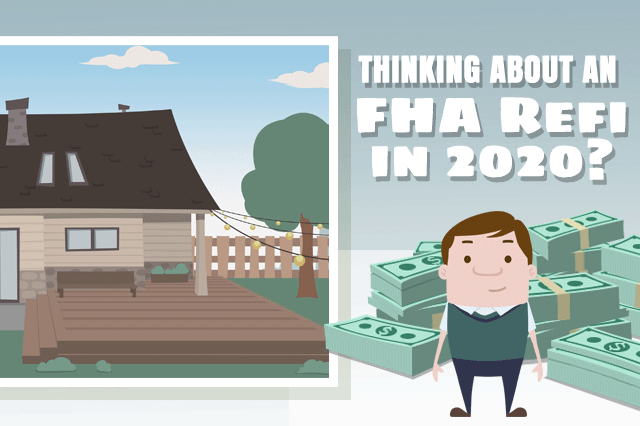 Interest rates hit incredible lows in 2019, prompting many homeowners to consider their refinance loan options. Are you thinking of refinancing in 2020? It may be a good time to discuss your FHA refinance loan needs whether you need to change lenders or keep your current financial institution for the new loan.
Refinance Loans in 2020: Interest Rate Advantages
No matter what rates might do in the new year, higher or lower, FHA mortgage loans feature interest rates lower than many conventional mortgages. And interest rate issues aren't limited to the amount of the rate--do you have an adjustable rate mortgage? Is that loan about to end its' introductory rate?
Borrowers who have conventional, FHA, or other government-backed non-FHA mortgages with adjustable rates should consider refinancing into an FHA loan with a fixed interest rate.
FHA Refinance Loans for ARMs
Lender requirements will vary--not all participating FHA lenders offer all available FHA home loan products. That said. FHA program rules do permit the borrower to refinance an ARM loan to another ARM loan; a strategy some may use to keep a lower mortgage loan interest rate but stick with a plan to sell the home at a later date rather than keeping the house for the lifetime of the mortgage.
Get You into a Lower Payment or Interest Rate
Those with existing FHA mortgages have the option of doing an FHA-to-FHA streamline refinance loan. FHA Streamline loans require a tangible benefit in most cases--that may include a lower mortgage loan interest rate, a lower monthly payment, or getting into a fixed rate loan from an ARM loan.
FHA Streamline Refinance loans are for existing FHA mortgages only and can't be used with non-FHA loans.
FHA Refinance Loans: Shop Around for a Lender!
It is never smart to assume all lenders offer the same kinds of rates, terms, etc. Whether you started your home loan journey in 2019 or if you prefer to let the new year to begin before launching into your house hunting plans, it's best to compare lenders to make sure you don't miss the most competitive options.
Some lenders may be able to work with your circumstances in ways others might not. The best thing to do is to assume the loan you want may have different interest rates and other options since you last checked.
------------------------------
RELATED VIDEOS:
Don't Skip the Home Inspection
Bigger is Better With a Jumbo Loan
Insuring Mortgages With the FHA Funding Fee
SEE YOUR CREDIT SCORES From All 3 Bureaus
Do you know what's on your credit report?
Learn what your score means.