Reasons Why Home Loan Interest Rates Bounce
September 27, 2019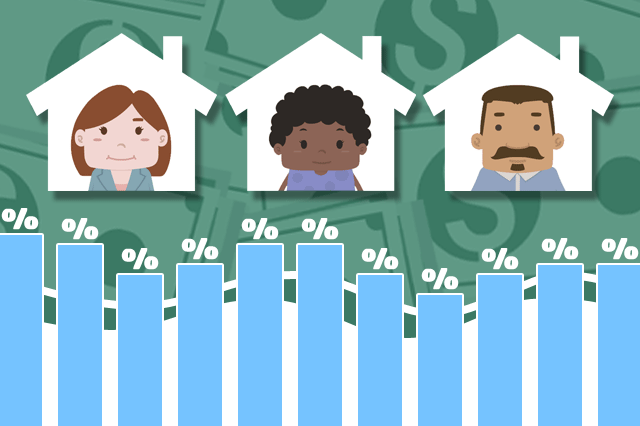 In the earliest days of September 2019, mortgage loan interest rates were being reported in some circles as the best in three years. A week later, rates were suddenly pushing higher.
Some market watchers noted that in August, the markets that influence mortgage loan interest rates, and indeed the rates themselves, would appear to hit rock bottom and begin a "market correction" that made things look like higher interest rates were coming. But then, at least in August of 2019, a new low wound up being just around the corner.
But what might have hinted at a market correction then turned into --at least according to some sources-- an actual market correction in September. Mortgage loan interest rates on FHA mortgages hit a best-execution 3.25% before pushing back into a range between 3.25% and 3.5% for the most qualified borrowers.
Compare that to conventional rates offered under the same conditions at between 3.625% and 3.875%.
Markets may trend lower for a period of time, then rebound into higher rates as a "market correction." In the investment world, a market correction is a price decline of stocks or other investments that meets a specific type of severity. A market correction can happen in the individual stock, stock indexes, commodities, markets, etc.
Investopedia.com states that an "average" market correction" is short-lived and lasts anywhere between three and four months". Corrections can actually be good for the economy even if they make investors jittery.
It's important to remember the cause-and-effect relationship that certain markets have on mortgage loan interest rates; rates are not set by these markets, but they ARE influenced by them. Investor reaction-including panic, fleeing to "safe haven" investments (or the opposite),etc-is very important to watch when trying to judge the volatility of the current market.
Interest rate watching for lenders and house hunters is important, but if you aren't sure why markets are being watched, you might not be at the right stage in the home buying process. Rates become more important when you are about to enter into a mortgage loan interest rate lock commitment with the lender.
This happens when you are serious about buying a specific piece of real estate and are ready to fully commit; the lender will offer you a rate that is locked in for a specific period of time to protect you from daily rate changes. The rate offered to you at this time will be influenced by your credit scores, but also by the current market forces that influence mortgage rates.
Ask your lender if it's safe to commit or if "floating" until rates improve might be an option to consider. Ask how locking and floating work, and be sure to make the most informed choice you can about committing to the interest rates offered to you at the time.
------------------------------
RELATED VIDEOS:
Obama Mortgage Is the Home Affordable Program
Principal Payments and Your FHA Loan
Living in a Single Family Home
SEE YOUR CREDIT SCORES From All 3 Bureaus
Do you know what's on your credit report?
Learn what your score means.